Autumn Power Plant Bowl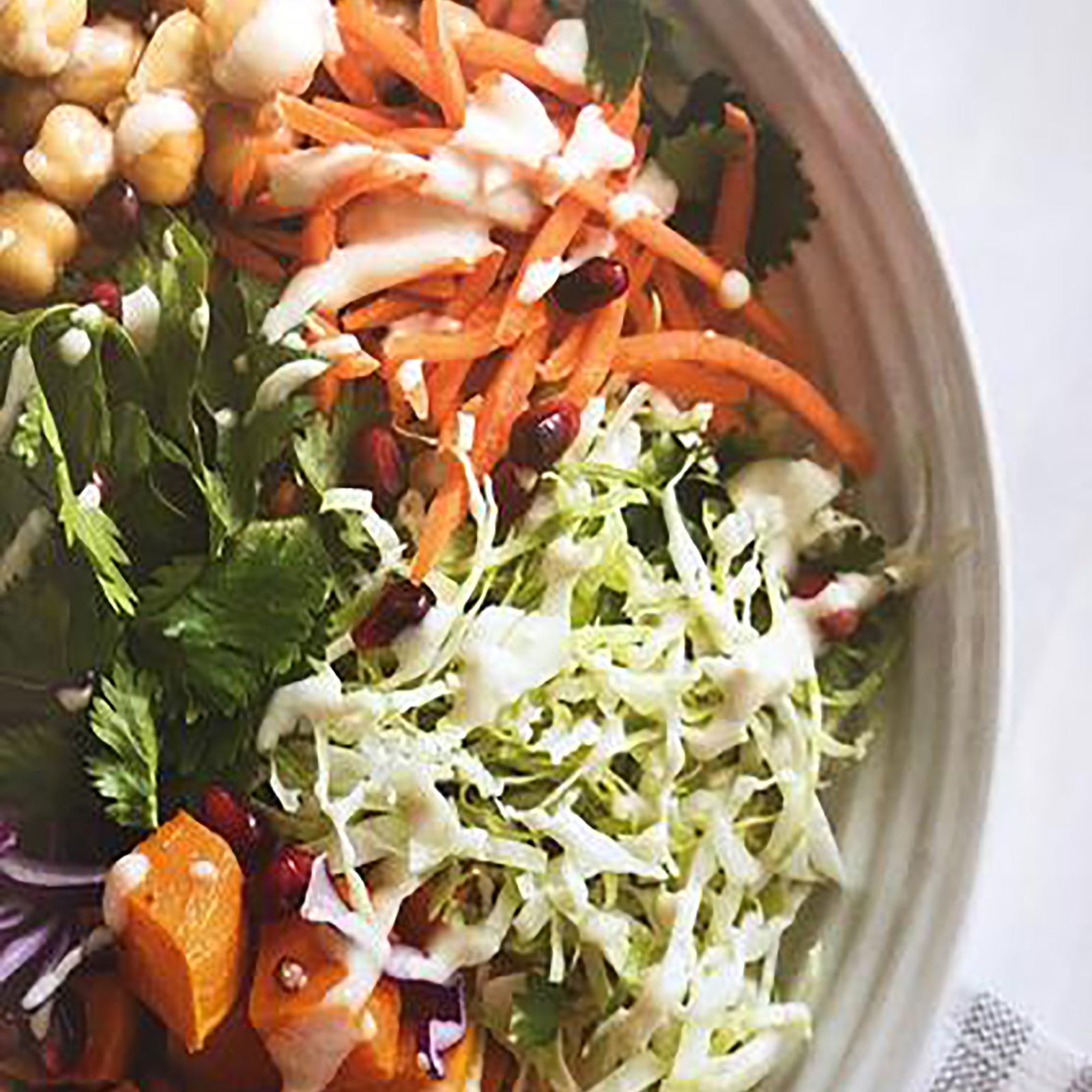 At the end of the rainbow, there's this delicious power plant bowl waiting.
Now that we've officially turned the calendar to autumn, it's time to get inspired by fall flavors. We turn once again to the seasonal plant-based recipes in one of our favorite cookbooks, "Plant Power Bowls:  70 Seasonal Vegan Recipes to Boost Energy and Promote Wellness" by author Sapana Chandra.
Here's the recipe for the Rainbow Quinoa Bowl, with Lemon-Tahini Dressing.   Sounds perfect for days when the sky is grey (as it often is in Seattle).
This recipe is packed with craveable ingredients and a fun mix of textures and flavors.
Quinoa is a complete, vegan protein.  Chickpeas are antioxidant-rich, full of fiber and protein. Sweet potatoes are off the charts rich in Vitamin A, Vitamin C, and Vitamin B6.
1 cup of Brussels sprouts give you 160 percent of your daily Vitamin C.   A sprinkle of pomegranate seeds helps to prevent aging inflammation, while adding a pop of sweet-tart color and flavor. 
RECIPE                                                     
Courtesy of "Plant Power Bowls" by Sapana Chandra 
Rainbow Quinoa Bowl
with Lemon-Tahini Dressing
Ingredients
1 sweet potato (about 5 oz.), peeled and diced
1 tablespoon avocado oil
Pinch of sea salt
Pinch of freshly ground black pepper                                                                                   
2 cups cooked quinoa                        
2 cups cooked chickpeas
1 cup shredded brussels sprouts
1 medium carrot, julienned
½ medium yellow pepper, thinly sliced
½ cup roughly chopped fresh cilantro
¼ cup pomegranate seeds
½ cup Lemon-Tahini Dressing (recipe follows)
Makes 2 bowls.
Prepare the sweet potatoes. Preheat oven to 325 degrees F.  In a medium bowl, toss the sweet potato, oil, salt, and pepper.  Spread in a single layer on a baking sheet and roast for 40 minutes, flipping them halfway through, until they start to brown slightly.
Assemble each bowl with half of the quinoa, chickpeas, brussels sprouts, cabbage, carrot, bell pepper, cilantro, and pomegranate seeds. Drizzle with the dressing.
Lemon-tahini dressing
Makes about ½ cup
Ingredients
¼ cup water                                                         
2 tablespoons tahini
2 tablespoons freshly squeezed lemon juice
2 tablespoons extra-virgin olive oil
1 clove garlic minced
½ teaspoon ground cumin
Pinch of sea salt
In a small bowl, whisk together the water, tahini, lemon juice, oil, garlic, cumin and salt until smooth and creamy.  Alternatively, combine the ingredients in a blender and blend on high for 1 minute, scraping down the sides as needed.  Taste and adjust the seasoning, if desired.
1 Response
Leave a comment
Comments will be approved before showing up.