Watermelon And Arugula Bowl Recipe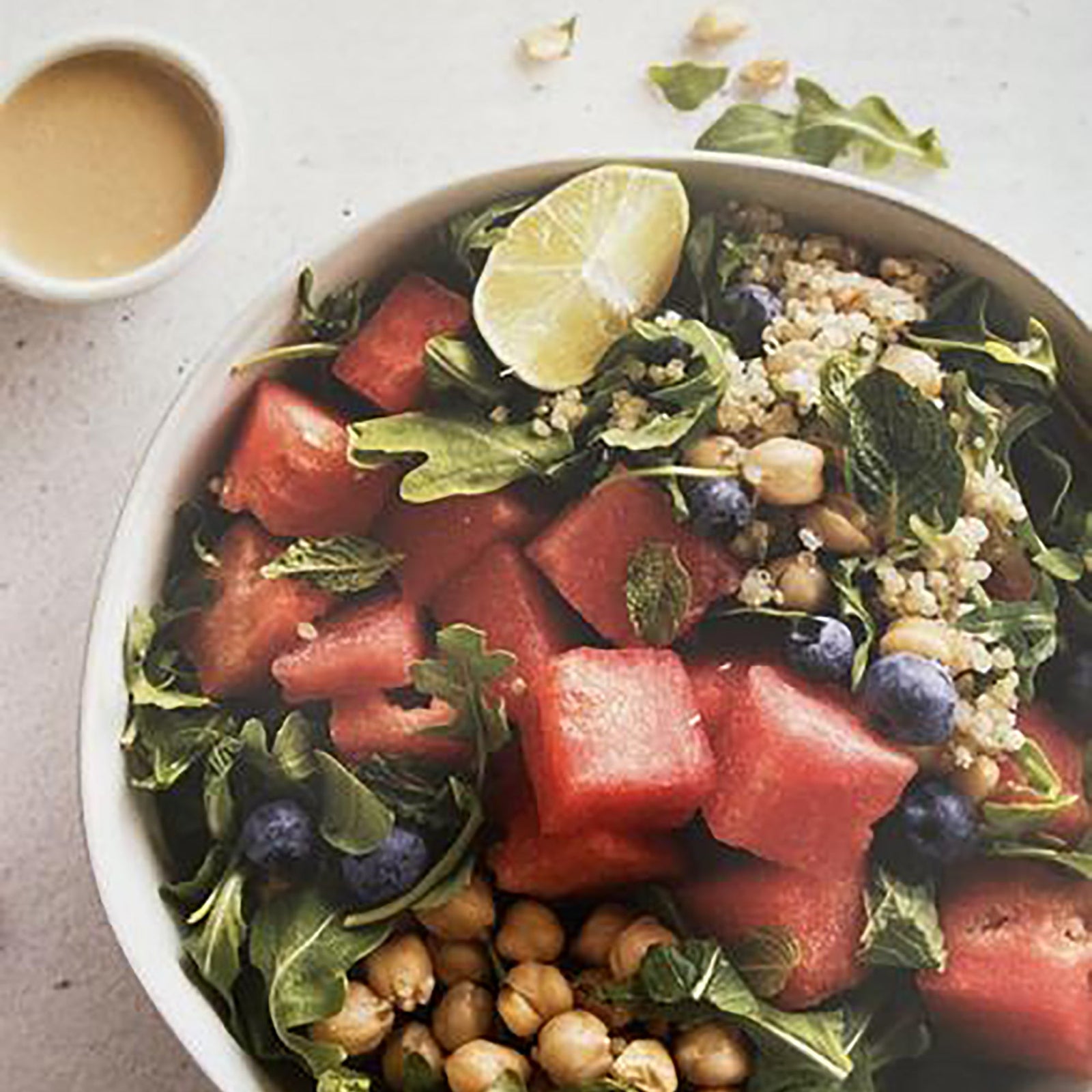 Laura, our Head of Marketing, was looking for something that was easy to make and easy to pack for a picnic. She wanted something healthy yet filling and "summery".  She turned to "Plant Power Bowls" by Sapana Chandra for some inspiration. The KG team met Sapana last year and everyone fell in love with her and this book.
Laura instantly became a huge fan of this and wanted to share. Note that she didn't make the cashew dressing but instead just used some good olive oil and lemon. 
Watermelon and Arugula Bowl
Ingredients:
2 Big Handfuls of Arugula 
2 cups cooked chickpeas
2 cups cooked quinoa
2 cups diced watermelon
1/2 cup blueberries
2 tablespoons fresh mint leaves
2 tablespoons pepitas
1/2 medium lime
1/2 cup creamy cashew dressing (recipe down below)
Directions:
Assemble each bowl. This recipe makes two bowls. 
Cream Cashew Dressing
Ingredients:
1/2 cup of raw cashews, soaked in water for 30 minutes
1/2 cup water
2 tablespoons freshly squeezed lemon juice
2 tables extra-virgin olive oil
Pinch of sea salt
Pinch of freshly ground black pepper
Directions:
Rinse and drain the cashews. In a blender, combine the cashews, waster, lemon juice, oil, salt, and pepper. Blend on high for about 1 minute, until smooth and creamy. Taste and adjust the seasoning if desired. 
 And lastly, ENJOY!
 ----------------------------------------------
Check out our latest skin care articles:
What's the difference between toners and tonics?
Leave a comment
Comments will be approved before showing up.