Good For You No-Bake Cookie Bars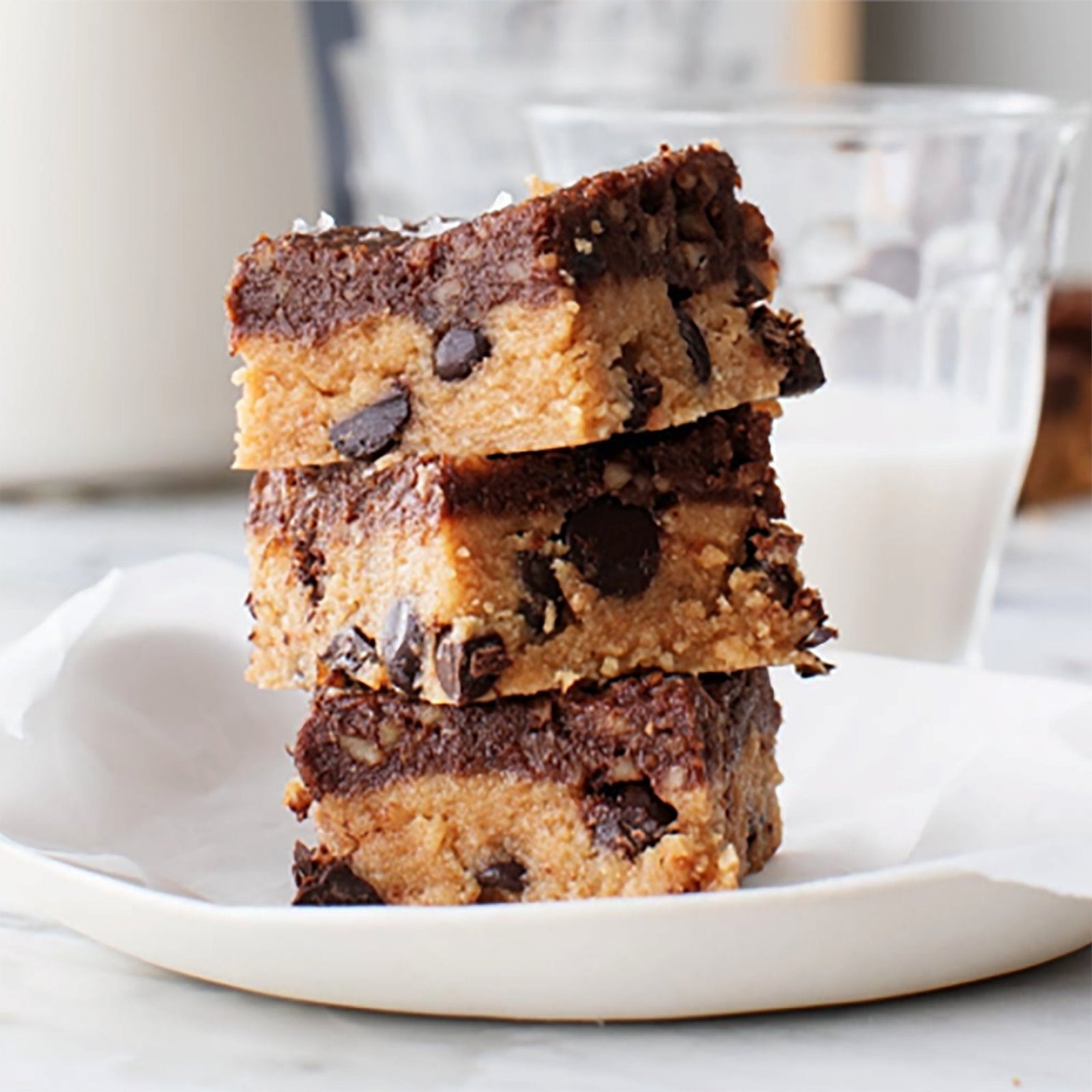 What do you look forward to on Valentine's Day? A romantic dinner? A fun girls' night out? Or do you just ignore all the hoopla and carry on?
The one part of this holiday that I really enjoy is the chocolate part. The darker the chocolate, the better. 80% or more does the trick. 
Still, it's not a good idea for me to have an entire box of chocolates around, I tend to struggle with stopping at one. I'm trying to make healthy choices every day with what I put into my body, and an entire box of chocolate spells D-A-N-G-E-R for me.
Does that mean giving up a sweet indulgence now and then? Absolutely not.  How about trying some no-bake cookie bars that are far tastier than your average good-for-you treat? Trust me, these are pretty darn good.  
Raw Peanut Butter Chocolate Chip Cookie Bars!
I was turned on to this recipe at an anti-aging workshop given by my friend and naturopathic doctor, Emily Passic, who got it from a vegan blog she recommends called Love and Lemons.
Sumptuous and rich, these cookies are full of good-for-you organic ingredients, like peanut butter (or any nut butter that suits you), coconut oil, almond flour, cacao powder, walnuts, with Medjool dates and a touch of maple syrup for sweetness. They hit my happy spot in a big way.
What elevates them to superfood status are the Cacao and Maca powders.  Cacao is the purest form of chocolate, and it's packed with antioxidants, fiber, and magnesium and iron.
Maca is powder from the Peruvian maca root and has a malty, vanilla-y, butterscotchy flavor that brings an extra dose of deliciousness to the dough layer. Maca is an adaptogen, believed to naturally support the body's ability to adapt to stress and help improve energy, vitality, and stamina.  
If you're feeling a bit more indulgent, you can add dark chocolate chips or I've even used shaved 80% dark chocolate. Or if you prefer less sweet, you can leave out the maple syrup (I didn't miss it, neither did my taste test group).
You can find the full recipe at Love and Lemons https://www.loveandlemons.com/chocolate-chip-cookie-bars/
Photo Credit: www.loveandlemons.com
Check out KariGran's latest posts on Skin Care routine here.
Leave a comment
Comments will be approved before showing up.