Beauty Begins with Natural Sunscreen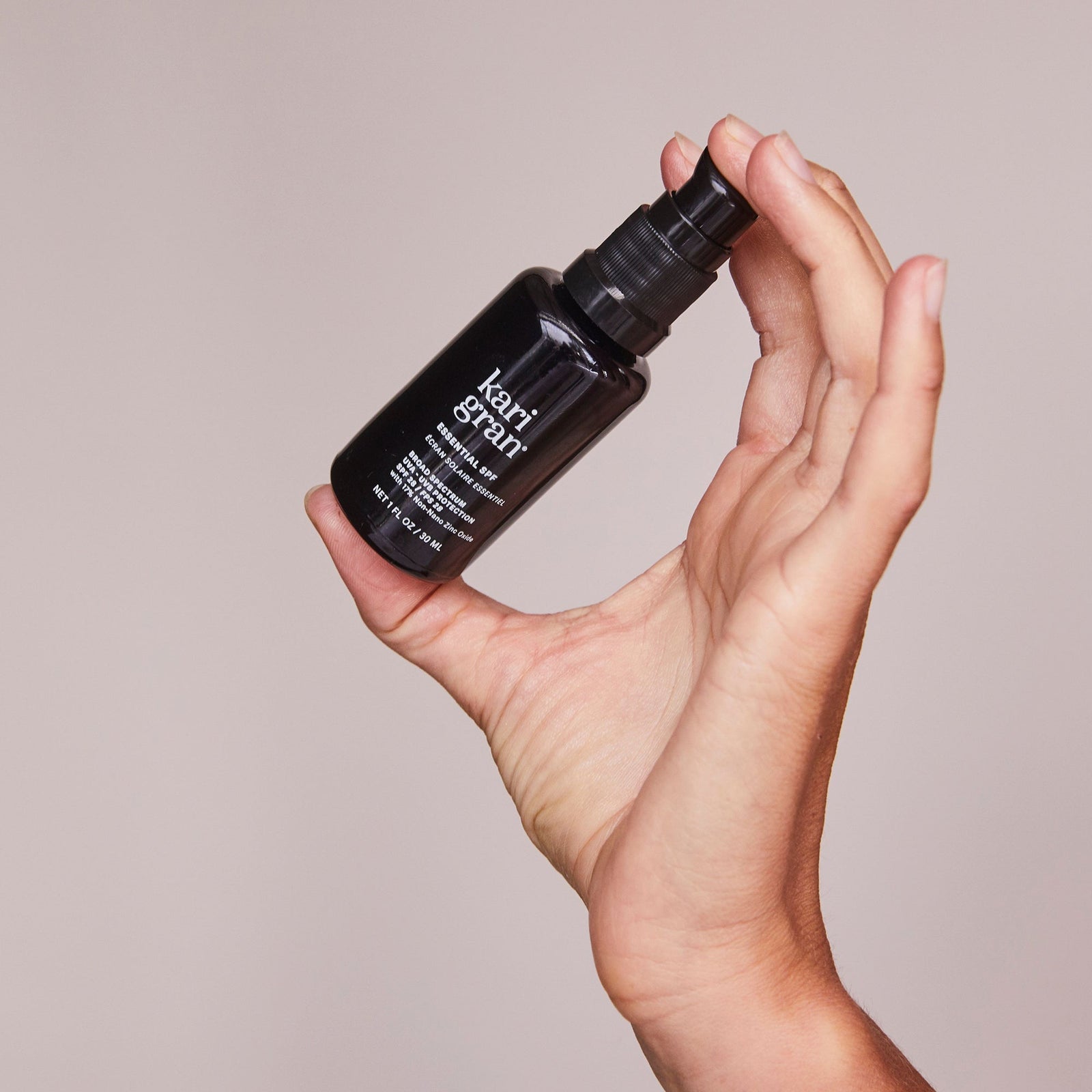 Natural is one of our favorite words.  Sunscreen is another. Put the two together and you've got our idea of an essential skincare product, Natural Sunscreen.  We do our best to eat clean natural foods and we seek the same in skincare and beauty products. Sunscreen is no exception. 
Using sunscreen every day is the easiest way to protect your skin from sun damage, early aging, and brown spots. Prevention is the best way to keep your skin looking young, healthy, and beautiful. 
Go Broad-Spectrum
So what exactly is broad-spectrum sunscreen? It protects skin from both types of ultraviolet radiation: UVA and UVB. These UV rays not only damage skin by causing premature wrinkling, sagging, and dark spots, but they also increase the risk of skin cancer. According to the American Academy of Dermatology Association, skin cancer is the most common cancer in the United States.
Unless the label says "broad-spectrum" the sunscreen will protect you only UVB rays. 
Quick refresher:  UVA rays penetrate deep into the skin to break down collagen and elastin and cause premature aging, aka photoaging. These are present daily at equal intensity, even when it's cloudy or rainy.  UVB rays are burning rays responsible for reddening and burning the skin's surface. UVB rays are present on bright sunny days.
Choose Natural.
Natural Sunscreen, also called physical or mineral sunscreen, uses the minerals zinc oxide or titanium dioxide as their main ingredient. 
We're big fans of Zinc Oxide, as it's the only filter that protects against both UVA and UVB rays. Zinc oxide creates a physical barrier to UV rays, reflecting the sun's UV rays rather than absorbing chemicals into the skin.
We Are Not Fans Of Chemical Sunscreens
We recommend avoiding sunscreens with active chemical ingredients (such as oxybenzone and avobenzone) because they can be absorbed by the skin into the bloodstream and have been linked to hormone disruption (as well as possible allergic reactions). 
Choose SPF 15 or Above.
According to dermatologists, the minimum SPF sunscreen you should be using is one with an SPF rating of 15. We can't say it enough: the best sunscreen option is one labeled broad-spectrum, which will protect you against both UVA and UVB rays.
Be sure to reapply every couple hours if you are swimming or exercising and be generous when applying sunscreen. 
Reef-Safe Sunscreens Make Mother Nature Happy.
The results are in: chemical ingredients are proving to be harmful to marine life, especially coral reefs. "The National Park Service says that 4,000 to 6,000 tons of sunscreen enter reef areas each year, and studies have found that the chemicals they contain can damage coral reefs, contributing to 'bleaching' and death" of coral reefs.
Kari Gran Essential SPF 28
Our natural sunscreen does double duty: providing broad-spectrum mineral protection against the sun's harmful rays while moisturizing skin with naturally derived organic oils.
Kari Gran Essential Tinted Sunscreen
This sheer-coverage tinted moisturizer with spf helps even skin tone as it protects against sun's damaging rays with SPF 28 mineral sunscreen. It features a blend of red raspberry seed oil, French plum oil and macadamia nut oil to moisturize, brighten and leave skin looking radiant. Imparts a dewy and radiant finish.
Remember to make wearing sunscreen a natural part of your every day skincare routine. Even as fall and winter approach, those sun damaging rays don't disappear!
Leave a comment
Comments will be approved before showing up.