3 Reasons to Use a Mineral Sunscreen on Your Face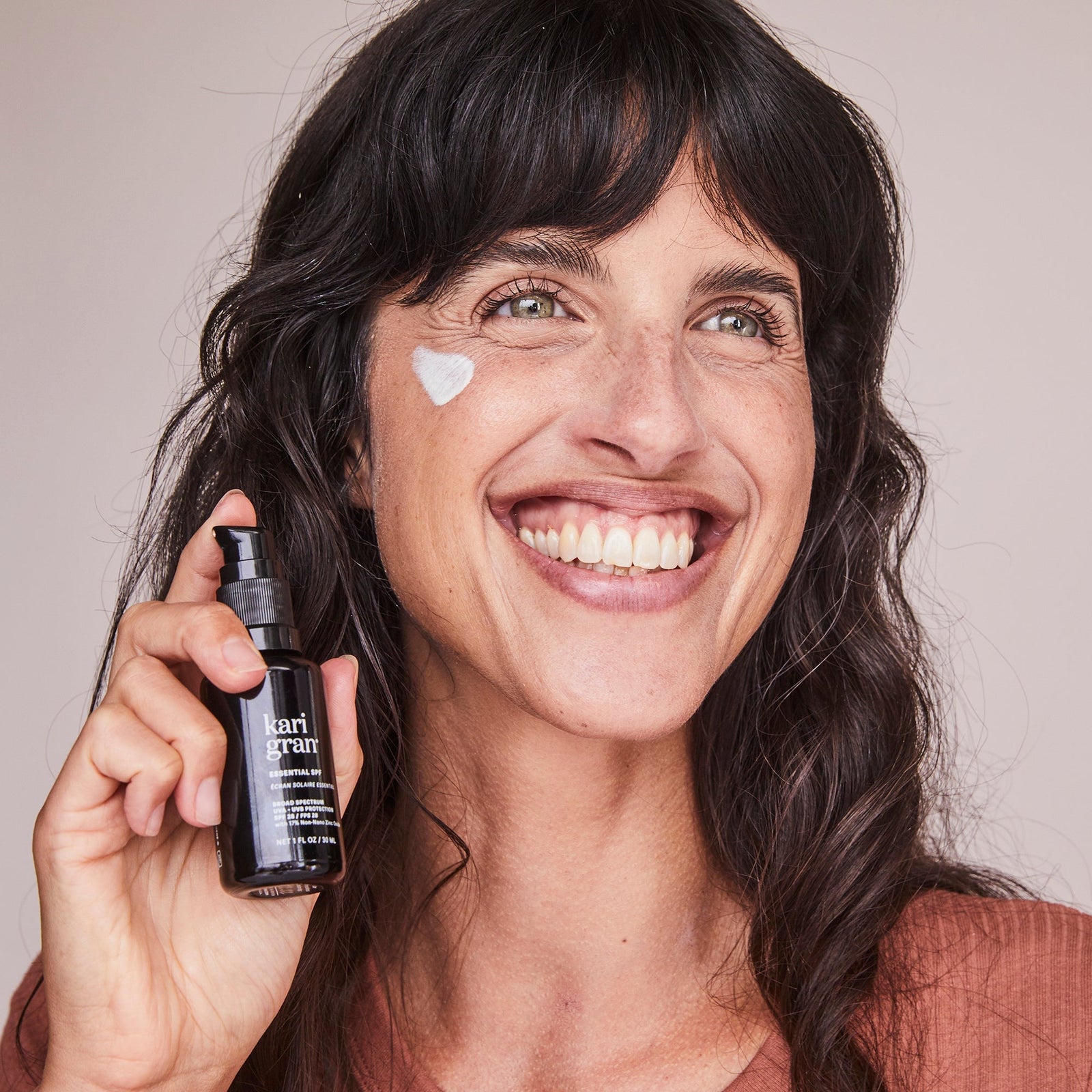 We love using mineral sunscreens for many reasons. Mineral sunscreens (either zinc oxide or titanium dioxide) create a physical barrier to protect against damaging UV rays, are incredibly gentle on skin, and are ocean safe. What's not to love?
1. Mineral Sunscreens Act as a Physical Barrier
A mineral sunscreen means that it only uses zinc oxide or titanium dioxide as the active ingredients (aka the UV filters). "The minerals sit on your skin's surface and act like microscopic mirrors to reflect harmful rays" says Orit Markowitz, board-certified dermatologist and founder of OptiSkin in NYC. They block and scatter the UV rays before they penetrate your skin. Whereas chemical sunscreens  penetrate directly into the skin. They absorb UV rays and turn them into heat that's then released by the skin. Because of this, that is why chemicals sunscreens take 15 minutes to activate while mineral based sunscreens are effective immediately.
2. Mineral Facial Sunscreens Are Gentle
Mineral SPFs are the gentlest option for skin (especially zinc oxide). In fact, most diaper creams have zinc included because of its soothing and non-irritating powers. As we should wear sunscreen every day, it is always best to reach for a gentle, soothing option. Plus, mineral sunscreen actives (zinc oxide and titanium dioxide) sit on top of the skin rather than being absorbed, so they are less likely to cause any skin reactions.
3. Mineral SPFs Are Reef Safe
To keep ocean life happy, non-nano zinc oxide is the best sunscreen active with non-nano titanium dioxide a distant second. Non-Nano means the particles are large enough to not seep through skin or enter marine biosystems (like reefs). Petrochemical ingredients such as oxybenzone and octinoxate used in chemical sunscreens have been banned by a growing list of countries and states. But, be sure to read your labels as researchers are finding other chemical-based sunscreen ingredients are not safe for reefs or marine life.
We Dig Our Minerals
When Kari set out to formulate her own sunscreen, she wanted to create a gentle, effective, and safe sunscreen with organic ingredients to moisturize and protect delicate facial skin. Her checklist included: 
Mineral-based, broad-spectrum (UVA and UVB)
Made with

non-nano zinc oxide

, the only UV filter that provides broad spectrum protection

Made with natural, non-GMO, or organic ingredients
Gentle formula
Formulated without synthetic fragrances, sulfates, parabens, and phthalates
Cruelty free
Voilà, KG Essential SPF 30 was born. We've dubbed it our anti-aging superhero. This mineral sunscreen uses non-nano zinc oxide as an active barrier to shield the face from UVA rays which cause signs of aging, and UVB rays responsible for sunburn. It's made with organic botanical oils to protect while it moisturizes to promote healthy, glowing skin.
Leave a comment
Comments will be approved before showing up.