What Is Clean Sunscreen?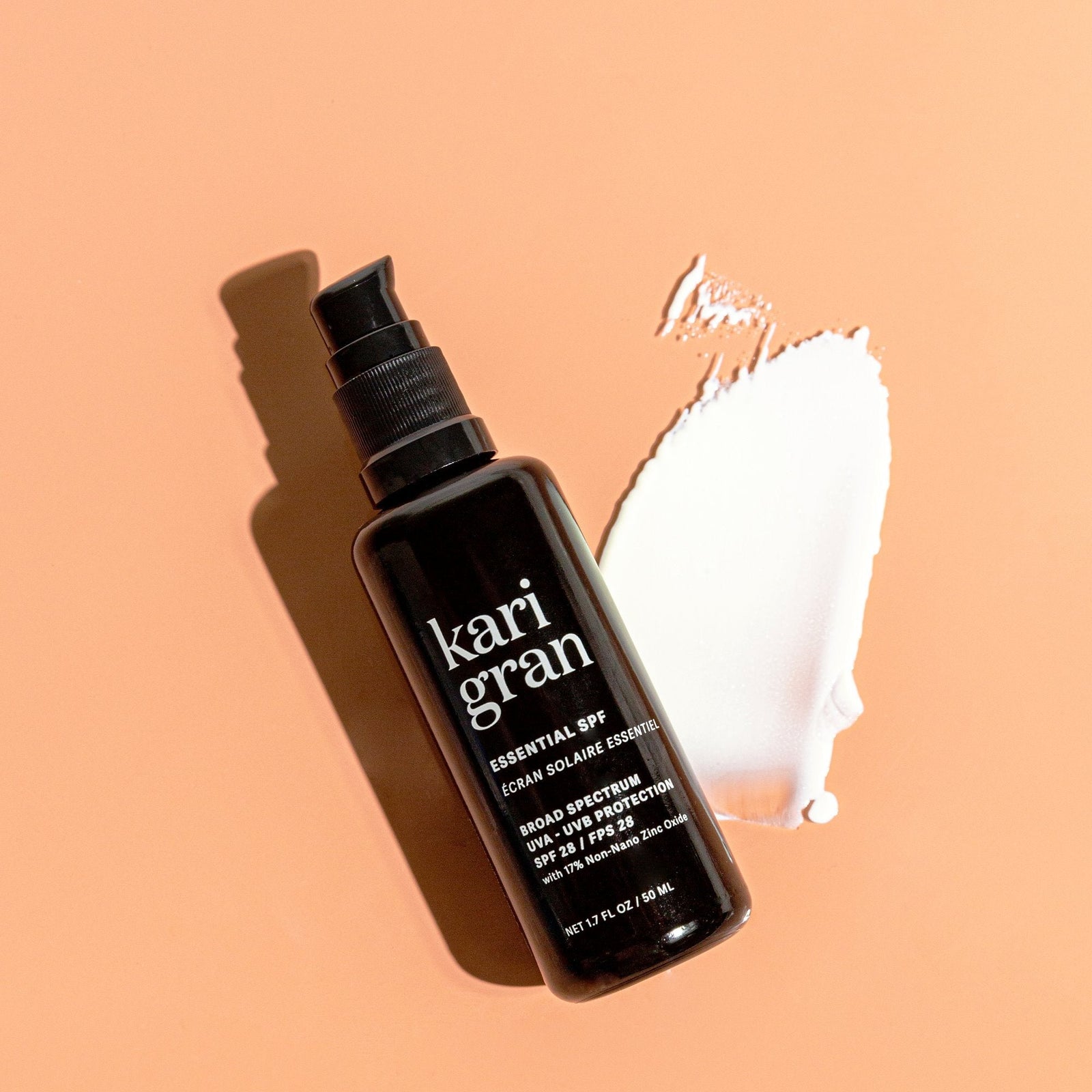 Here at Kari Gran we believe the question of what makes a clean sunscreen comes down to two fundamentals.  First, what kind of UV filter (or active ingredient) does it have?  Secondly, what other ingredients are in it, and are they good for you and your skin?
Our definition of clean sunscreen is one that uses zinc oxide as its UV filter. Zinc oxide is the only UV filter that protects your skin from both UVA and UVB rays (aka broad-spectrum sunscreen).  All other UV filters with either mineral or chemical active ingredients need to be used in combination to provide similar coverage. 
Zinc Oxide (Mineral UV Filter) —Why It's My Choice
As Manhattan dermatologist Dr. Dendy Engelman says "Just even looking at it, zinc oxide's this literal shield against the sun.  Not much gets through it—physical blockers are sort of a no-brainer, as far as I'm concerned."  We agree.
Mineral sunscreens are also known as "physical" sunscreen because they sit on top of the skin, rather than permeating it. I was committed to creating a mineral facial sunscreen that ensured maximum broad-spectrum protection using a physical UV filter, such as the mineral non-nano zinc oxide. The trouble with zinc oxide, as you might know, is that too much of it in a formula can give an undesirable white-cast. I worked closely with my biochemist to meticulously modify different percentages to deliver the SPF protection that blended effortlessly into all skin tones. We found that magic ratio at 17% Non-Nano Zinc Oxide, which translates to an SPF of 28, blocking approximately 96% of UVB rays.
Keep in mind that SPF ratings pertain only to UVB (burning) rays, which are present when it's sunny; it's the UVA (aging) rays that are present during all daylight hours that are responsible for accelerated photoaging.
Looking For A Natural, Organic Sunscreen? 
I was too, which is why I developed: Kari Gran Essential SPF 28. This organic sunscreen contains only high quality, naturally derived ingredients, without any known toxins. The non-nano zinc oxide is suspended in ultra-protective and antioxidant-packed non-GMO oils, such as Red Raspberry Seed and Plum Seed. These oils are light yet highly moisturizing and give your skin a hint of radiance. So it not only protects your skin but is deeply hydrating and perfect for the face and neck. 
This is my desert island product. I use it every single day. Essential SPF 28 checks all the crucial boxes for me: clean ingredients, free from harmful toxins, ample sun protection, fragrance-free, and blends smoothly with an organic skin care moisturizer or mineral makeup product.
Looking for more info on SPF?
1 Response
Leave a comment
Comments will be approved before showing up.