Does Zinc Oxide Prevent Aging?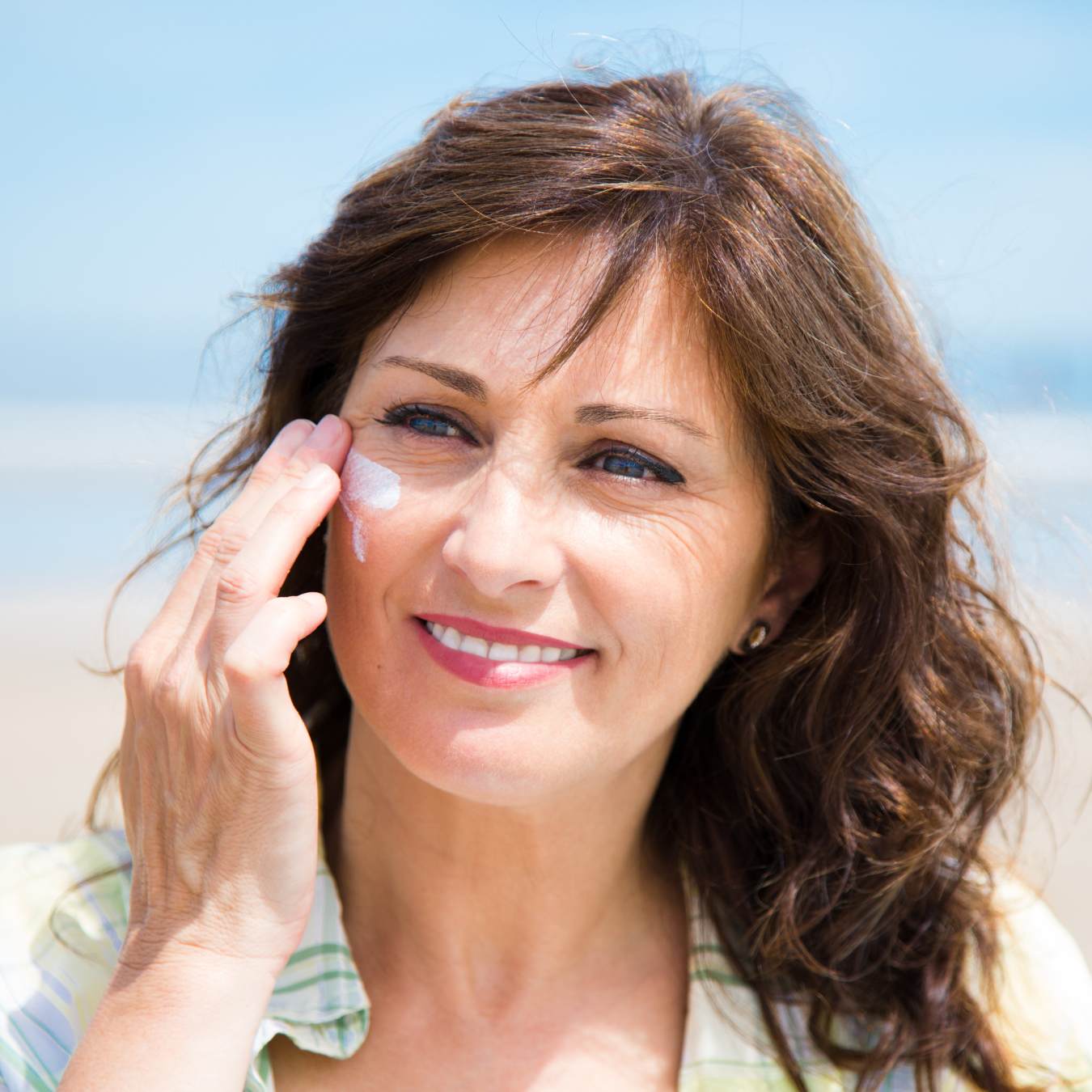 Let's be honest; nothing can stop time or turn the clock back (Even Cher knows this to be true). However, you can do plenty of things to support your skin so that the visible effects of aging are minimized and delayed. Today, it's all about how zinc oxide can help. Zinc oxide is a powerful ally in your natural anti-aging skincare routine because of its ability to block UV rays in mineral sunscreens, and help reduce and minimize the effects of premature aging.     
All-Star, Natural UV-Blocking Ingredient In Sunscreen
When you read "zinc oxide," do you conjure images of surfer dudes, skiers, or snowboarders unabashedly wearing stripes of white (or neon!) zinc oxide on their noses? Were you among the many who shunned sunscreen with zinc oxide because of the white cast it left on your skin? Fortunately, in recent years skincare technology has advanced so that it's now possible to find one that has a lighter feel and blends in more easily while still giving effective sun protection.
Zinc oxide is widely known to be one of the most effective defenses against sun damage. It is created when the mineral zinc is heated and combined with oxygen molecules. This combination is then vaporized and condensed into a fine, white powder.  Zinc oxide is not water-soluble, so it needs to be combined with a carrier agent to be most effective. Which makes it a perfect fit with our natural oil-based skincare. 
Zinc oxide is a primary ingredient in mineral sunscreens, and it's a natural, clean alternative to chemical skin care formulations. Zinc oxide offers broad-spectrum protection against UV rays (both UVA and UVB) that any age and skin type can use.. In fact, zinc oxide is the only UV filter for sunscreen approved by the FDA as a single ingredient to protect against both UVA and UVB rays.  Other UV filters must be combined to be as effective as zinc oxide on its own.
Because zinc is a mineral, it sits on top of the skin, creating a protective layer that reflects the sun by blocking and scattering ultraviolet rays rather than being absorbed into the skin like most chemical sunscreens. It's­­­ why zinc oxide is referred to as a "physical barrier substance" rather than a "chemical substance." Chemical sunscreens penetrate directly into the skin absorbing the UV rays and turning them into heat that's been released by the skin. And some active chemical ingredients like Oxybenzone and Avobenzone have been linked to hormone disruption as well as possible allergic reactions.
The Role of Zinc Oxide in Anti-Aging Products
The properties of zinc oxide make it a powerful skincare ingredient for minimizing age-related effects on the skin. It is beneficial for women as we go through menopause because this is when collagen and natural oil decrease. Zinc oxide helps significantly prevent sun damage, such as wrinkles, dark spots, and fine lines.  Zinc oxide also helps form a protective layer over the skin that keeps the nourishing moisture of oils locked in. So those moisturizing oils you are using will continue to work while you are also protecting your skin.
Kari Gran Skincare Makes The Most Of Zinc Oxide
"Wear sunscreen every day! Rain or shine." We've been shouting this from the rooftops for years. Without applying an SPF daily, any other efforts toward slowing the effects of aging are nil. Prevention versus repair is best!
That's why we created two mineral sunscreens that include non-nano zinc oxide as a primary ingredient.
Essential SPF 30
We call this our anti-aging superhero. This mineral sunscreen uses non-nano zinc oxide as an active barrier to shield the face from UVA rays, which cause signs of aging, and UVB rays responsible for sunburn. Made with organic botanical oils, this oil-based sunscreen serum protects while it hydrates to promote healthy, glowing skin.
Essential Tinted SPF 30
This oil-based, sheer-coverage tinted moisturizer helps even skin tone as it protects against the sun's damaging rays with SPF mineral sunscreen. It imparts a dewy finish and is available in light, medium, and dark tints. Features a blend of red raspberry seed oil, French plum oil, and macadamia nut oil to moisturize, brighten and leave skin radiant.
Kari Gran Skincare also believes mineral makeup is good for your skin. It adheres to the natural oils on the skin's surface, so it does not clog pores. It's breathable and lightweight, acting as a barrier against environmental stressors. Mineral powder makeup is versatile. You build and layer to your ideal coverage and feel.
Zinc oxide is found in our Mineral Powder Foundation. Lightweight and luxe, our mineral powder foundation uses luminous mineral pigments to build flawless, light-reflecting coverage that lasts. Zinc Oxide acts as a physical UV filter for added sun protection. 
It's also in our Mineral Concealer. This lightweight, breathable, and buildable mineral powder concealer minimizes dark circles and skin imperfections. It perfects your skin while creating a flawless finish, diffusing dark circles, and minimizing the appearance of other imperfections. 
Who knew that Zinc Oxide could be such a player in so many different aspects of skincare? It's evolved from its days as a funny-looking sun protection cream to an ingredient that helps keep skin looking youthful, smooth, and bouncy.  
Leave a comment
Comments will be approved before showing up.