The Beauty Of Facial Oils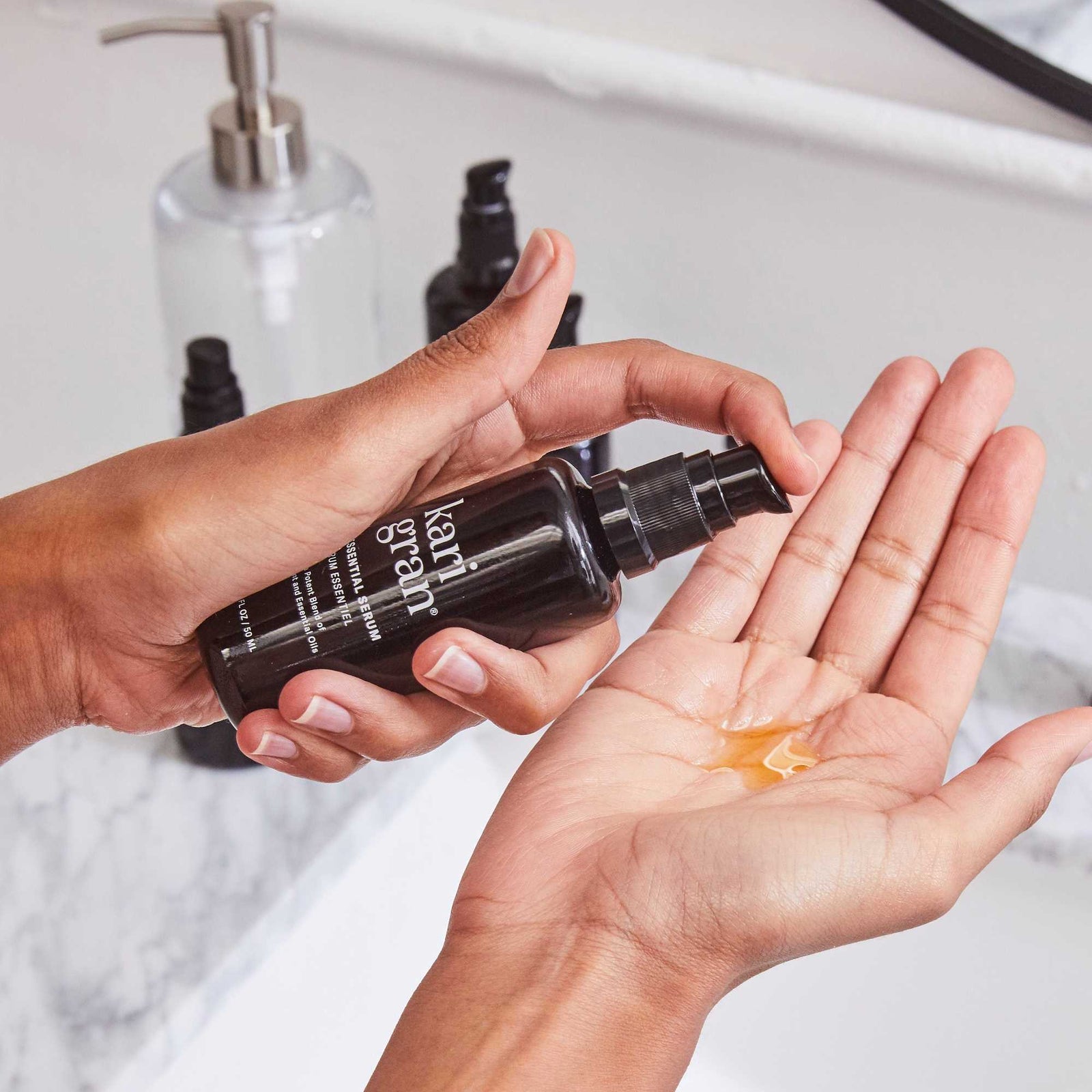 Growing up, oil-free skin care was all the rage, so I carefully avoided any product with oil in it. Oil got a bad rap among those who dreamed of perfect, blemish-free skin. Wouldn't it clog pores? What about the oily T-zone? 
I had no clue then that oil itself wasn't the villain. Not until I was an adult and after much research, did I learn that it was the kind of oil I needed to pay attention to.  Most conventional cosmetics and skin care are made with petrolatum/petroleum. While these are technically natural substances as they do come from the earth, the practices involved in extracting the oil and the molecular size didn't make them ideal for any type of skincare ritual. 
I do love a good, healthy fat.  When coconut oil first came to market in a big way, I shelled out $20 for a very small jar and promptly took my new treasure with me on a trip.  As I traipsed through TSA, I found out they didn't exactly agree with my rationale that it was a "solid" and asked what I did with it. I quickly replied "I eat it and I put it on my body! TSA was not persuaded and my jar of coconut goodness ended up in the trash.
Even before I had dipped my toes into the world of organic skincare I was open to the idea of putting oil on my face. Maybe not coconut oil, but I did find that a facial oil made my skin feel smoother and hydrated. 
What Are Facial Oils?
Your skin's outer layer (the epidermis) is actually composed of fats (aka lipids).  Facial oils deliver the same essential nutrients that our skin already makes naturally. I believe facial oils are skin's BFF. In one simple step, you can hydrate, nourish, and protect your skin, keeping it resilient and ready to combat wrinkles. 
Essential Fatty Acids In Oils Do Wonders
Natural oils like organic avocado, camellia, and rosehip seed all enrich the skin with essential fatty acids, including omegas 3,6 and 9, all of which are innate components of healthy, supple, and resilient skin. Omega-3 oils are known anti-inflammatories (Omega oils are also touted for their dietary benefits—a good example that what we put in our bodies can work wonders for our skin, too.)
A Natural Source Of Vitamins And Antioxidants
Natural oils help lock hydration into your skin while also conditioning it with fat-soluble vitamins and antioxidants.
At Kari Gran, we use organic, naturally derived, and NON-GMO oils that are safe and skin compatible. Along with plant oils that contain vitamins A, E, and C, we also use organic sea buckthorn extract for its high antioxidant and Vitamin C content. What we don't use is water —which means you get more pure product.
Oils Help Repair Skin Barrier 
Essential fatty acids help your skin maintain a healthy natural barrier to protect it against sun, wind, and pollutants. 
As we age, our bodies produce fewer lipids, weakening the skin barrier. Your skin can look dry, dull or irritated, and be more susceptible to wrinkling as menopause eventually approaches. 
Facial oils are an easy way to replenish oils you've lost due to the natural aging process and exposure.
Are Facial Oils Good For All Skin Types?
I still get the occasional slightly skeptical question: "Cleansing oil, really? My skin's already oily enough!" or "How does oil actually clean your skin?"
My short answer is that a cleansing oil attracts and binds to all kinds of pore-clogging substances, like makeup, dirt and grime, and excess oil, making it easy to get rid of them by lifting them away through cleansing.
Rather than stripping your skin with scrubs or harsh soap, our organic cleansing oil helps balance skin's natural oil production, helping to reduce clogs and breakouts.
Obviously, I'm a true believer in oil-based facial products. I think they're a big reason you'll hear people say things like "Your skin looks so healthy" and "Your skin is glowing!"
1 Response
Leave a comment
Comments will be approved before showing up.