What Does Sea Buckthorn Do For Your Skin?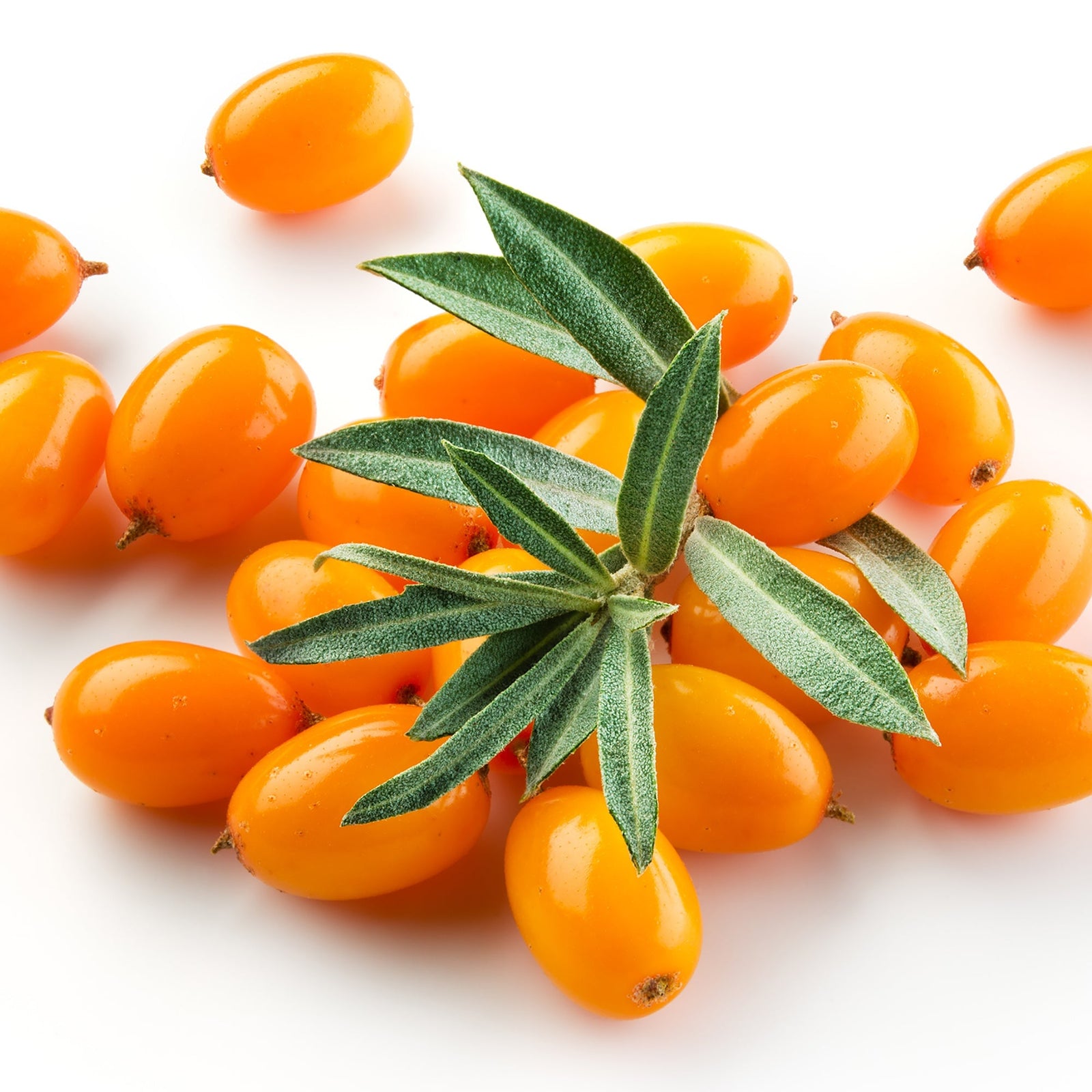 Packed with antioxidants (vitamins A & C) and essential fatty acids, sea buckthorn extract is incredibly great for your skin as it supports a healthy skin barrier, prevents transepidermal water loss (TEWL), promotes a more even skin tone, and reduces fine lines.
Hippophae rhamnoides, commonly known as sea buckthorn, is a spiky, hard-to-harvest thorny bush filled with clusters of berries, varying in color from pale yellow to bright orange. Sea buckthorn oil extract is obtained through cold pressing or extraction from the fruit and seeds of the plant. The producing oil is a vibrant dark orange with a thick consistency.
Sea Buckthorn Extract Provides Antioxidants to the Skin
Sea buckthorn berries benefit the skin by having an impressive level of vitamin C, as much as 9x higher when compared to other citrus fruits. Which is why they're often called the "Lemon of the North". It's one of the most powerful antioxidants, bolstering skin's defenses against harmful UVA and UVB rays. Vitamin C also brightens skin and evens out skin tone —and who doesn't want a fresh glow?
The berries' deep, bright orange color is a giveaway that they're rich in alpha- and beta-carotene, which produce vitamin A (aka nature's retinol). This is especially helpful for aging and menopausal skin. Vitamin A helps reduce fine lines and bolsters vitamin C for a more even skin tone.
Additionally, sea buckthorn berries have high concentrations of vitamin E (alpha-tocopherol is the major vitamin E compound), a well-known friend to skin health and beauty.
Sea Buckthorn Oil is Packed with Essential Fatty Acids
You may be surprised to learn that sea-buckthorn berries contain high levels of essential fatty acids, which help keep the skin hydrated and moisturized. They are key to preventing TEWL ( transepidermal water loss) which is a fancy term for how skin loses water aka moisture loss. 
The essential fatty acids form a protective barrier on the skin which strengthens the skin's barrier and reduces water loss. This helps to maintain hydration levels, keeping skin firm, smooth, and soft.
Sea buckthorn fruit oil extract has a high content of omega-7 – the most elusive omega fatty acid- and Omega-6, both of which have skin regeneration and repair properties.
Sea buckthorn oil extract is absolutely an essential ingredient we use at Kari Gran. It's a major player in our Essential Serum and Essential Balm.  The astonishing abundance of vitamin C would be reason enough, but there's so much more to it. And of course, we love that we're able to get it from organic sources and to have inlcuded it in our Vitamin C Serum.
Leave a comment
Comments will be approved before showing up.