What's the Difference Between Toners and Tonics?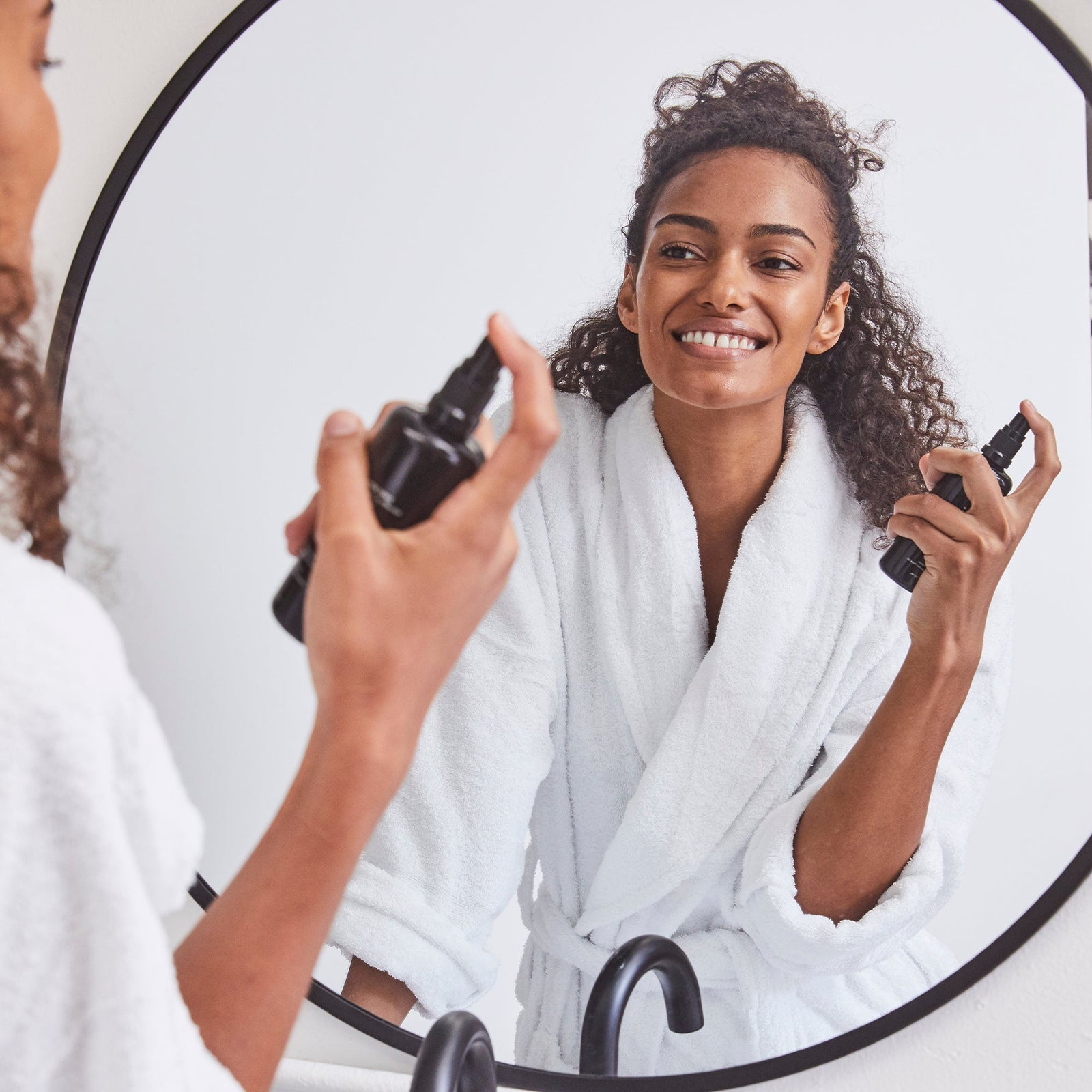 Remember when skincare was as simple as soap and water? And maybe a little moisturizer if you were really indulging. Somewhere along the way skin care exploded with all sorts of new products. Toners and Tonics came on the scene.
It's perfectly understandable to be confused as the definitions are blurry—the differences lie in the intended purpose and specific ingredients of each toner or tonic.
Here's our take on how toners and tonics are different from each other and what they do.
Yesterday's Toners
Somewhere along the way "Toners" came on the scene.  Traditionally toners were used after cleansing to remove any last trace of makeup, oil, or grime, and to restore skin's PH balance after using a high-alkaline cleanser or soap (skin is naturally acidic so restoring that acidic state and "acid mantle" barrier is important). Most of these toners were alcohol-based, and they did a bang-up job of zapping any trace of oil, makeup or grime.  They relied on active astringent ingredients like witch hazel or denatured alcohol. The toner seemed to be working when you felt a slight sting and your skin felt tight and "squeaky clean".  Unfortunately, that tight feeling meant the alcohol also stripped skin of its natural beneficial properties. Not exactly a win-win situation.
Hydrating Toners
Today's newer toners are alcohol-free, and they still function to restore skin's natural pH balance. They often contain humectants, so they also act as a first lightweight hydrating layer in skincare routines.
Hydrating Tonics
Hydrating Tonics do just as the name suggests — conditioning and adding a moisture boost to skin. They prep and prime skin for the next layers of serum or moisturizer— damp skin allows these to absorb deeply.
The difference between hydrating toners and tonics? Toners are designed for clearing and toning skin, and often have extra ingredients to target a concern beyond hydration. Hydrating tonics are designed solely to deliver moisture to the skin.
Which is Right for You?
Most likely you'll only need one; this is where your skin type and what it needs comes in.  If you have oily or blemish prone skin, you might prefer a skin refining toner, while dry or mature skin benefits from the extra nutrients and moisture a hydrating tonic provides.
Kari Gran Skincare provides organic luxurious products designed to keep your skin healthy, hydrated and glowing.  The system is simple and streamlined, which is why "Essential" is in the name and on the label of each hydrating organic skincare product.
Our Kari Gran Essential Hydrating Tonic is a refreshingly simple blend of soothing ingredients also helps to strengthen skin's moisture barrier. It's alcohol-free and will not strip or dry your skin like traditional toners — instead it helps to give skin a natural, healthy glow.
The ingredient list is short and sweet, no fillers:
Organic Aloe. Absorbs quickly into skin replenishing hydration without a greasy or tacky feel
Organic vegetable Glycerin. Derived from single origin flax, it hydrates and strengthens the skin barrier 
Rose de Mai Hydrosol or Organic Lavender hydrosols
Kari Gran Hydrating Tonic can be used in a multitude of ways: as a moisturizer when mixed with Essential Serum, as a refresher any time your skin is feeling parched, as a Makeup Setter with serious staying power. And it's perfect for a quick aromatherapy pick-me-up.
So there you have it — Toners and Tonics.  Which one should you be using?  Simple:  Use whatever makes your skin look and feel its best. It's entirely up to you, so have fun tying out some new products if you're curious!  Just let your understanding of your skin and its needs be your guide.
Leave a comment
Comments will be approved before showing up.