What Are The Benefits Of Oil Based Skincare?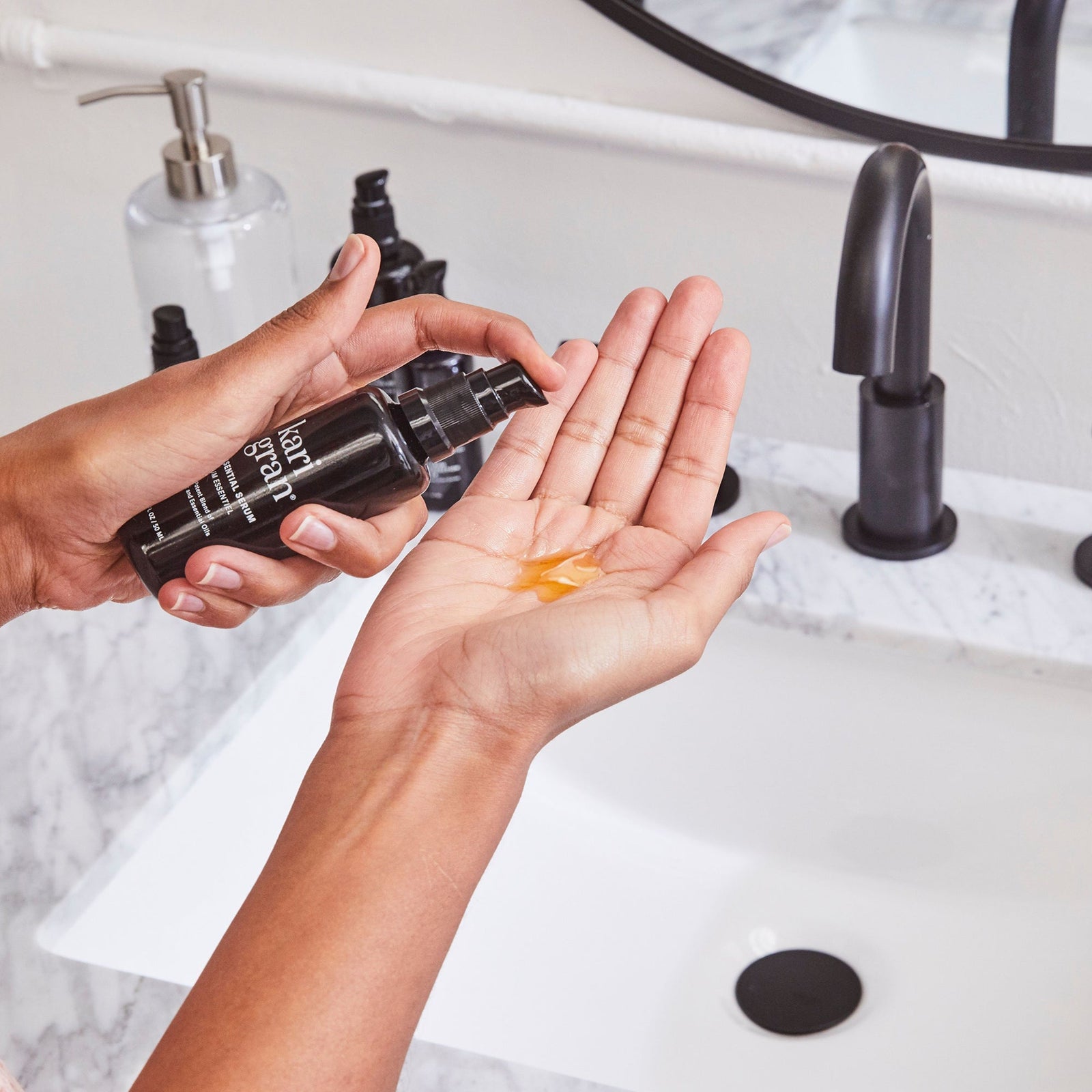 Skincare and oils are in the spotlight these days. Specifically, oils in skincare. Recent years have shown an increasing demand for organic, natural, clean beauty products. Oil-based skincare answers the call! 
We know there are doubters out there. Who needs more oil on their skin?  Won't it make it shiny, greasy-looking, or cause breakouts? Actually, no. Let's look at just a few of the reasons oils are so buzzed about right now.
Oils Play Well with All Skin Types
For those with oily skin, natural oils help balance the skin's own oil production. As facialist Joanna Vargas explains, "Oily skin, a condition in which there is an over-production of oil, desperately needs to be signaled to stop producing so much oil. If you give the skin oil, the skin will get that signal."
On the flip side, those with dry skin do well with oils as they need extra moisture and hydration. While our complexions naturally produce oil to keep the skin hydrated, for some though that's just not enough. Oils to the rescue!  
"Hydration is really a function of water balance, so oils help hold water in and prevent the environment from stripping water out," according to Tyler Hollmig, M.D., director of Laser and Aesthetic Dermatology at Stanford Health Care. 
Oils Are Essentially Hydration Concentrates
Hydration concentrate is one way to think of a facial oil. A traditional night cream is water based along with texture enhancers and oils (note that oils are listed last).  Many skincare moisturizers, lotions and creams on the shelf contain up to 70-90% water, along with texture enhancers, leaving little room for the oils that actually provide moisture to the skin. Our moisturizing serum has no water or fillers, only 100% pure potent product to give your skin all the goodness it craves and deserves. And because an oil-based product is very concentrated, a little goes a very long way.    
Kari Gran is Picky About Oils
Not all oils are created equal. Some are especially rich in vitamins, or antioxidants, or essential fatty acids. Remember, though, that not all oils are beneficial, even if they're 100% natural—it's the oil in Poison Ivy that causes the rash. Be assured that the oils in Kari Gran Skincare are carefully chosen for their individual beneficial properties. Each has its own unique fatty acid profile, and each offers specific qualities to hydrate, support and protect skin. It's how they're combined to complement each other that produces the most effective skincare. 
Here are just a few of our favorites
Camellia Oil is one of the most nourishing natural oils for skincare, absorbs quickly and helps seal in moisture. It enriches the skin with essential fatty acids, including omegas 3, 6, and 9, and vitamins A, B, D, and E.

Rosehip Seed Oil has a high concentration of anti-inflammatory fatty acids, vitamin A, helping to hydrate, even out skin tone and brighten your complexion. Antioxidants protect against free radicals caused by sun damage.
Avocado Oil is just as much a superfood in skincare as it is on your toast. It's loaded with vitamins, essential fatty acids that soothe and moisturize, and antioxidants that fight free radicals, and it's super moisturizing.
Oils Support Your Skin's Barrier
As we age, our bodies produce fewer lipids, weakening the skin's barrier. As a result, your skin can look dry, dull or irritated, and be more susceptible to wrinkling.  Facial oils are an easy, extremely gentle way to replenish oils you've lost due to the natural aging process and exposure.
Many skin-healthy oils contain high amounts of essential fatty acids. EFA's are essential building blocks of a healthy skin barrier which protects skin against water loss, keeping moisture in and damaging elements out.
When you use organic, oil-based skincare your daily routine transforms from a "must do" chore to a bit of luxurious time for yourself. The very best part of adding oil-based skincare to your daily ritual is what you'll see reflected in your mirror –healthy, soft, supple skin. 
Leave a comment
Comments will be approved before showing up.