How to Exfoliate With A Washcloth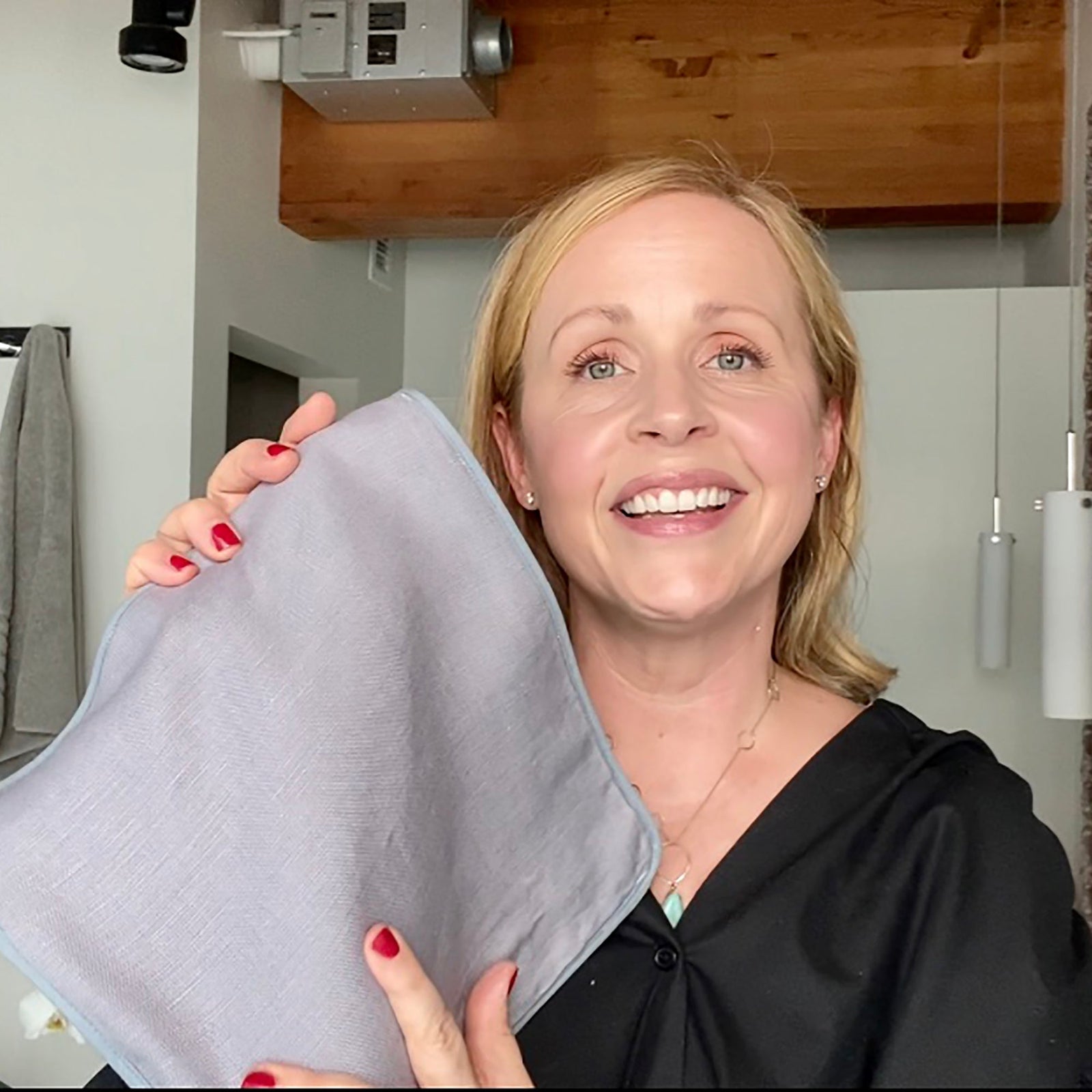 What are the Benefits of Exfoliating with a Washcloth?
An alternative to the consumable manual exfoliants of days gone by, our exfoliating washcloth is a reusable exfoliating product free from micro-plastics, walnut shells, and other uneven milled ingredients which can all lead to micro-tears in the skin. With delicate and dry skin, Kari set out to create a solution for cell turnover that didn't include acids. In the past, encounters with acids had always brought about a rosy irritation and inflammation in her skin. This magic bullet product touted in magazines and dermatologist offices delivered results, there was no doubt about it. But it failed to resonate with her skincare philosophies and sensitive skin.
Never one for a quick fix with consequences...For years, as an alternative, Kari has been effectively using generic and gentle washcloths with her beloved Cleansing Oil. Last year, she decided to upgrade and elevate that experience for not only herself but for her large following, many of whom share both sensitive skin and a more conservative approach to skin caring.
Developed in collaboration with Kari's holistic aesthetician, Paige Gayle, this product is a labor of love for any and all skin types and conditions. Based out of Ballard, Washington, years of hands-on work have led Paige to strongly advocate for clients to employ sustainable products and practices when it comes to skincare. So often we view the exfoliants as the cure-all solution to our skin problems. When we see instant results or relief, we lose sight of the long game and set off down a path that can lead to more problems than we started off in the first place.
Both Kari and Paige strongly feel one of the most pressing concerns in the world of beauty is compromised barrier function. Our skin is a barrier and our first line of defense against viruses, bacteria, and foreign invaders. When peels, acids, and rough exfoliants dissolve, thin, and tear this protective barrier, our skin suffers. Perhaps not immediately and likely not always, but in the long run, damage is par for the course.
What's nice about this dual-sided cloth is that it puts you in the driver's seat, offering you full control over the extent and intensity to which you exfoliate your individual skin. And isn't that what we could all use some more of in 2020? Just a little sense of control?
How to Exfoliate with a Washcloth.
Now for the driver's manual…Start by using the cloth once a week if your skin is sensitive. If you know your skin will appreciate it more like Lisa's, aim for twice a week. Resist the urge to use daily, your barrier will thank you.
Apply 8-10 pumps of the KG Essential Cleansing Oil with dry (and clean) hands to a dry face.
Gently (but with intention, love, and gusto) massage the lines, curvature, and corners of your face, neck, and décolleté. Pause to inhale the aromatherapy of Lavender.
Now, run warm (never hot!) water over your cleansing cloth and wring out the excess.
Press and lay the Terry side onto the skin, allowing the steamy warmth of the water to encounter your oiled skin. Press and gently wipe off the oil.
Run water through the cloth again to rinse away product buildup and repeat if necessary.
Next, flip over and begin using the European Linen side for gentle manual exfoliation. Apply light but intentional pressure to your skin. Begin exfoliating your skin from the hairline/forehead, sweeping down to the jawline along the perimeter of your face. Repeat on the other side and finish with the cheek area.  
Resist the urge to move the linen in circular motions as this can be a bit too much for most skin. This will gently slough away dead skin, remove excess oil, and finish your cleansing process. Toss in the wash, repeat, and enjoy!
Here at Kari Gran Skincare, we believe skincare should be simple, luxurious, and effective. As stewards of your skin, we follow the Hippocratic Oath: first, do no harm. That's the genuine reason why it's taken us years to offer a solution in our range for exfoliation. Simply because we refused to settle for anything short of sustainable when it came to both our delicate facial skin and the planet.
Introducing the Luxe Exfoliating Washcloth. Handmade by a small, local women-owned business, this European Linen and Italian Turkish Terry cloth is perfect for weekly use with the Kari Gran Cleansing Oil. Providing gentle manual exfoliation, you can use this cloth to help remove your oil cleanser and gently slough away dead skin cells. Offered in dark gray, our cleansing cloth masks the signs of wear and tear from makeup, SPF, and oil-rich treatments. 
Leave a comment
Comments will be approved before showing up.