What Is Green Beauty?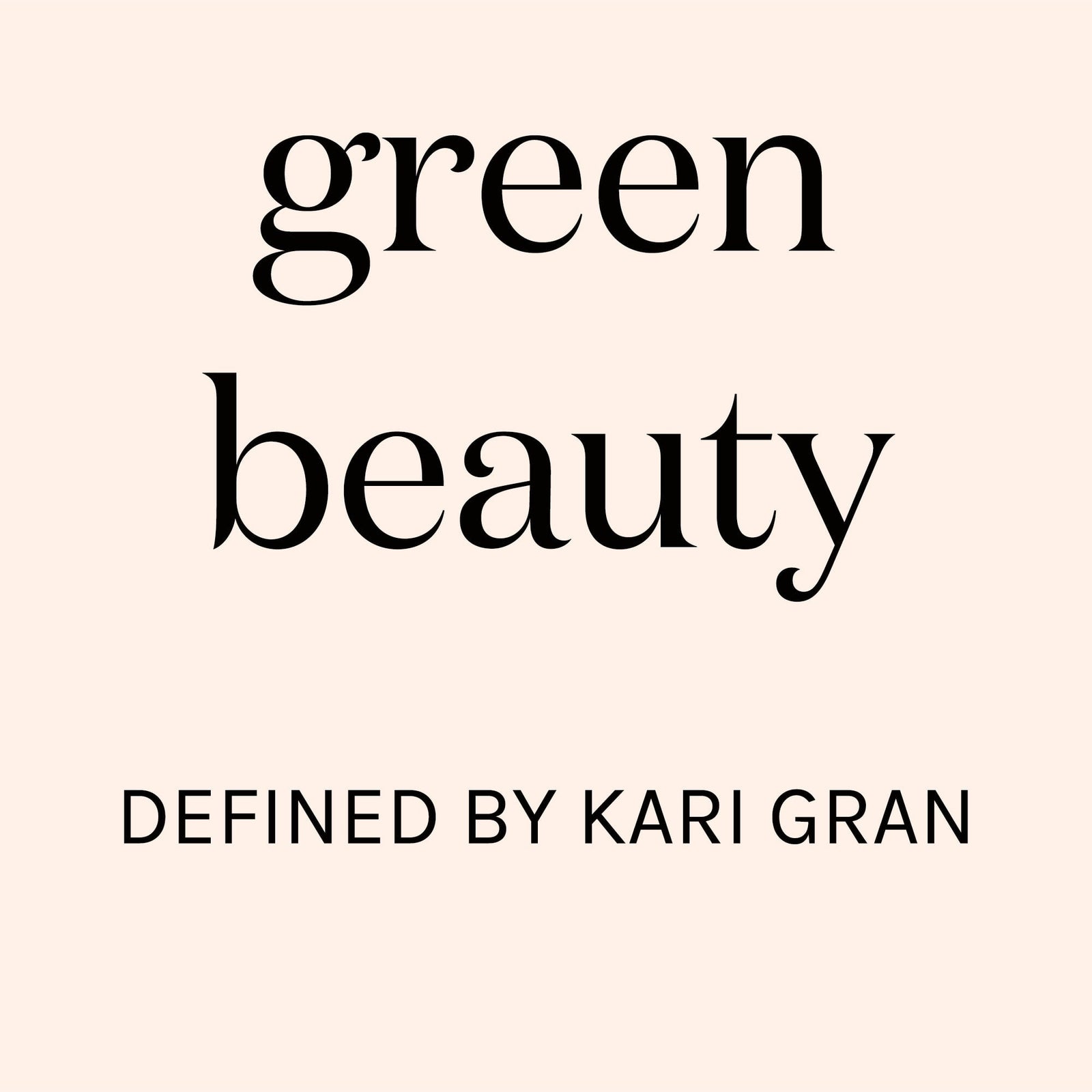 Ever wondered what the term "Green" Beauty actually means?
The green beauty movement started from a growing awareness of the harmful effect's conventional skincare and cosmetics products may have on our skin, our bodies, and our environment.
The green beauty barometer survey shows more and more women are paying attention to ingredient labels, wanting to make sure the products they purchase are good for the planet as well as their skin.
Defining Green Beauty Products
Surprisingly, there is currently no FDA set of standards or regulations that brands must meet to label themselves as green. This makes it tricky for consumers who want to purchase green beauty products, but don't understand precisely what they should be looking for.
How Kari Gran defines Green Beauty
From day one at Kari Gran, we knew we wanted to be as eco-friendly and sustainable as possible, while still delivering luxe skincare.  At every step of the way, we've created products to have maximum benefit to your skin, and minimal impact on the environment.
Elements that are most important to Green Beauty Skin Care
Packaging
We made a decision early on to use glass to package our products that contain essential oils. Green beauty organic skincare aims to reduce or eliminate the use of plastic, and secondly, plastics have the potential to leach essential oils.
Kari wanted the chic simplicity of black glass, so she chose to use MIRON glass.  (It gives the illusion of being black, but it's really dark violet).  MIRON glass protects oils from damaging UV light and helps to preserve the organic ingredients inside.   It's our answer to a cool, dark place that you need to store green beauty products.
Equally important is the fact that glass is recyclable.  We are currently looking into options to help our customers recycle the plastic tops we use, stay tuned.
Shipping
When it comes to shipping our products, less is more.  We don't use Styrofoam peanuts, bubble wrap, or excessive packaging.  Our paper packing material is made of recycled paper, and our cardboard shipping boxes are recyclable, too.
It all begins with good ingredients
Naturally Derived: We use the term "naturally derived" to describe any ingredients originating from plants, minerals, or microbes.  These may be adapted to provide performance.
Organic: We use organically certified ingredients, grown without the use of toxic fertilizers or chemical sprays. 
Non-GMO: What is a GMO anyway?  GMO is short for genetically modified organisms; in other words, living organisms which have been artificially manipulated through genetic engineering.  This creates combinations of plant, animal, bacteria, and virus genes that do not occur in nature, but in a lab.
Wildharvested: We use ingredients that are ethically harvested from their native habitat.
Our products contain no known toxins, parabens, phthalates, petrochemicals, mineral oil, chemical additives, preservatives, or synthetic fragrance.
Testing
We test our products only on our own skin, never on animals. 
Marketing
Green beauty is about loving the planet and loving yourself, which is why we think beauty brands can do without false promises, unrealistic expectations, and hype.
We won't ever claim that our products erase wrinkles or fight aging—that's just not honest.  What is possible is giving your skin every benefit you can to keep it healthy and radiant, whatever your age.
THE HAPPY ENDING 
With Kari Gran, you'll get luxurious, naturally derived products that will treat your skin right, along with the peace of mind that the environment has been treated just as kindly in making them.   Green Beauty is a good look for everyone.
Check out our entire line of green beauty products at
www.karigran.com