What Is Clean Beauty?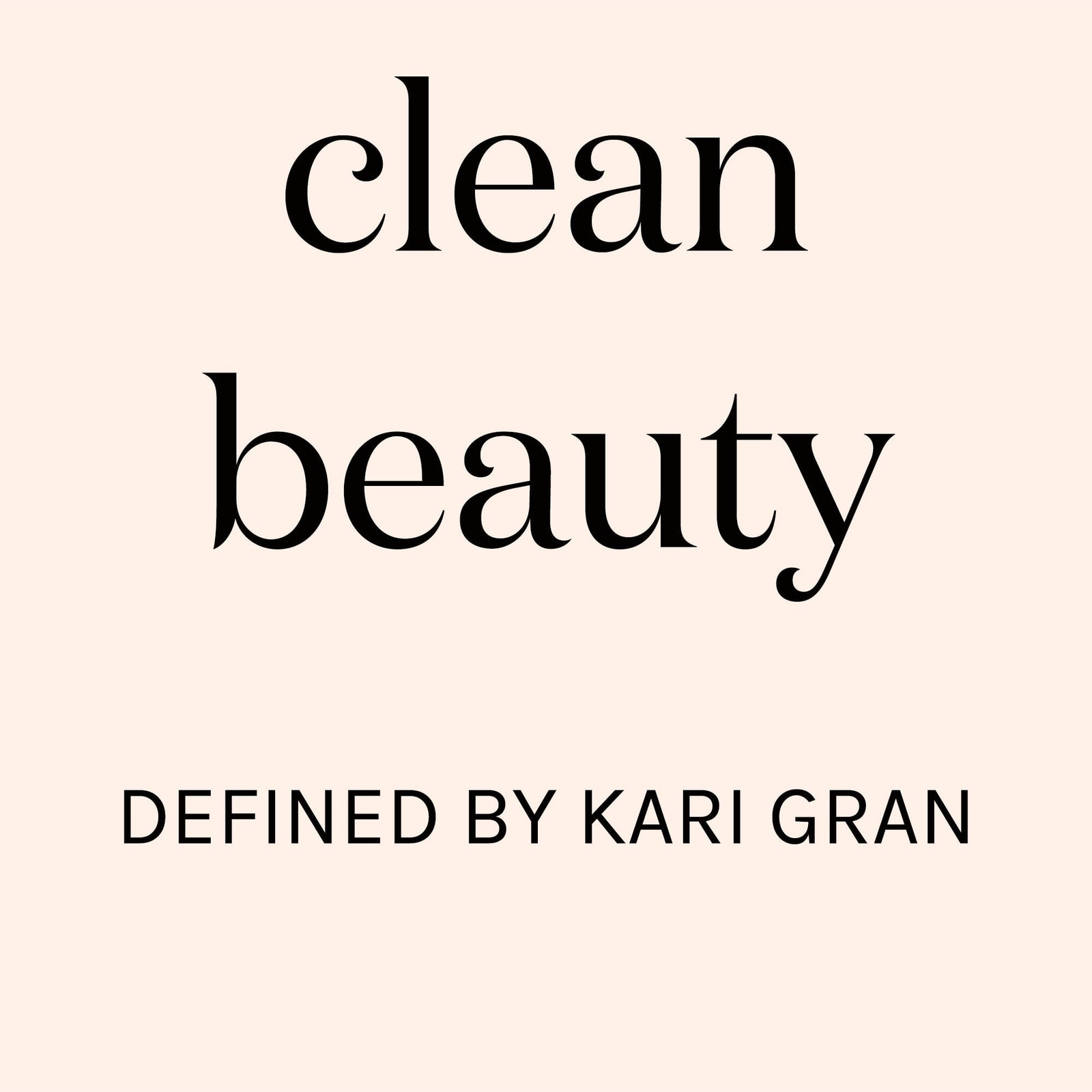 Ask three people what clean beauty means, and you'll probably get three different answers. It seems like a good time to share our point of view.                 
What Clean Beauty Means to Us
At Kari Gran, we believe clean beauty is simple. It's the idea that we shouldn't have to worry about what's in our beauty products and how it might affect our health or our environment. It's about combining organic, non-GMO and naturally derived, and ethically sourced ingredients into simple, yet effective products that make us feel good—and are better for the environment, too.
One of our favorite taglines says it all:  "Organic skincare as simple as it should be."
The science behind our clean beauty products reflects our ideology.
And it all begins with using the finest eco-friendly ingredients possible.
With so many effective, natural alternatives available today, we can create products that are as gentle and nourishing as they are luxurious to use.
Components of clean beauty products
We believe that what we leave out of products is just as important as what we put in. Read on to see some of our favorite ingredients and a list of the ones that we avoid.
Ingredients we love to use
We believe in using the finest ingredients available, because ingredients matter. 
We source naturally derived, organic, wildcrafted, and non-GMO ingredients.  Each is chosen for a specific reason, whether for its cleansing, hydrating or nourishing benefits. 
Keep in mind that we list the INCI name, followed by the common name of each ingredient.   INCI is an international naming convention that uses scientific, often Latin, names for ingredients.  But how many of us speak Latin?  For example, Organic Persea Gratissima is simply a much fancier name for what we commonly know as Avocado Oil.
Here's a snapshot of a few of our favorite ingredients:
Organic Camellia Oil (also known as Tea Seed Oil)
Camellia oil is a lightweight skin-friendly oil
Acts as a moisturizer that cushions dry, tight skin
Quickly absorbs & doesn't leave an oily residue
The omega fatty acids in this oil help to moisturize & address sensitivity and redness
Organic Rosehip Seed Oil
Full of vitamins but especially rich in vitamin A
Vitamin A can improve uneven skin tone and reignite a feeling of firmness, making it one of skin's best friend
Helps moisturize & brighten your skin
Organic Sea Buckthorn Berry
Powerhouse antioxidant because it's so rich in vitamin C
Brightens dull skin
Vitamin C is a superstar for its proven antioxidant properties that boost firmer-feeling skin. This powerhouse ingredient is backed by research for dramatically brightening and evening skin tone.
Also helps protect your skin from environmental stressors/ free radical attack, which can age skin
Ingredients we've never used
Kari started this company because she needed skincare without any of the ingredients known to have a harmful effect on her skin or endocrine system.   So we'll never use any of these:
Known toxins
Mineral Oil
Parabens
Petroleum
Petrochemicals
Phthalates (DBP, DEHP, DEP, DMP, and Others)
Synthetic fragrances
Nanoparticles
We count on trusted suppliers
We take our sourcing seriously.  Whether opting not to use an ingredient that may be of limited supply and thereby not sustainable as well as making sure the mica we use is mined without any child labor.
Is Clean Beauty right for you?
Clean beauty isn't a radical change or the latest fad, but rather a way of getting back to basics with products that are simple, pure and good for you. Clean beauty skincare is for everyone. It's the most natural way of caring for our skin and caring for ourselves at any age and at any stage.  It's not about magic cures or fulfilling impossible beauty standards.  It's about celebrating our own unique and beautiful body by nourishing it with the finest ingredients that leave our skin feeling supple, soft, and refreshed.
Clean beauty is simple
At Kari Gran, our mission is to provide women with naturally derived, luxe products that are effective and simple to use. We don't like to over-hype or over-promise—or take up all your space in your bathroom cabinet. Instead, we've carefully crafted an edited line of multi-functional skincare and beauty products that are fresh, free of known toxins, and completely customizable to your own preference.
Learn more about our products and practices to see how they can work for you.