What Are The Essential Skincare Products?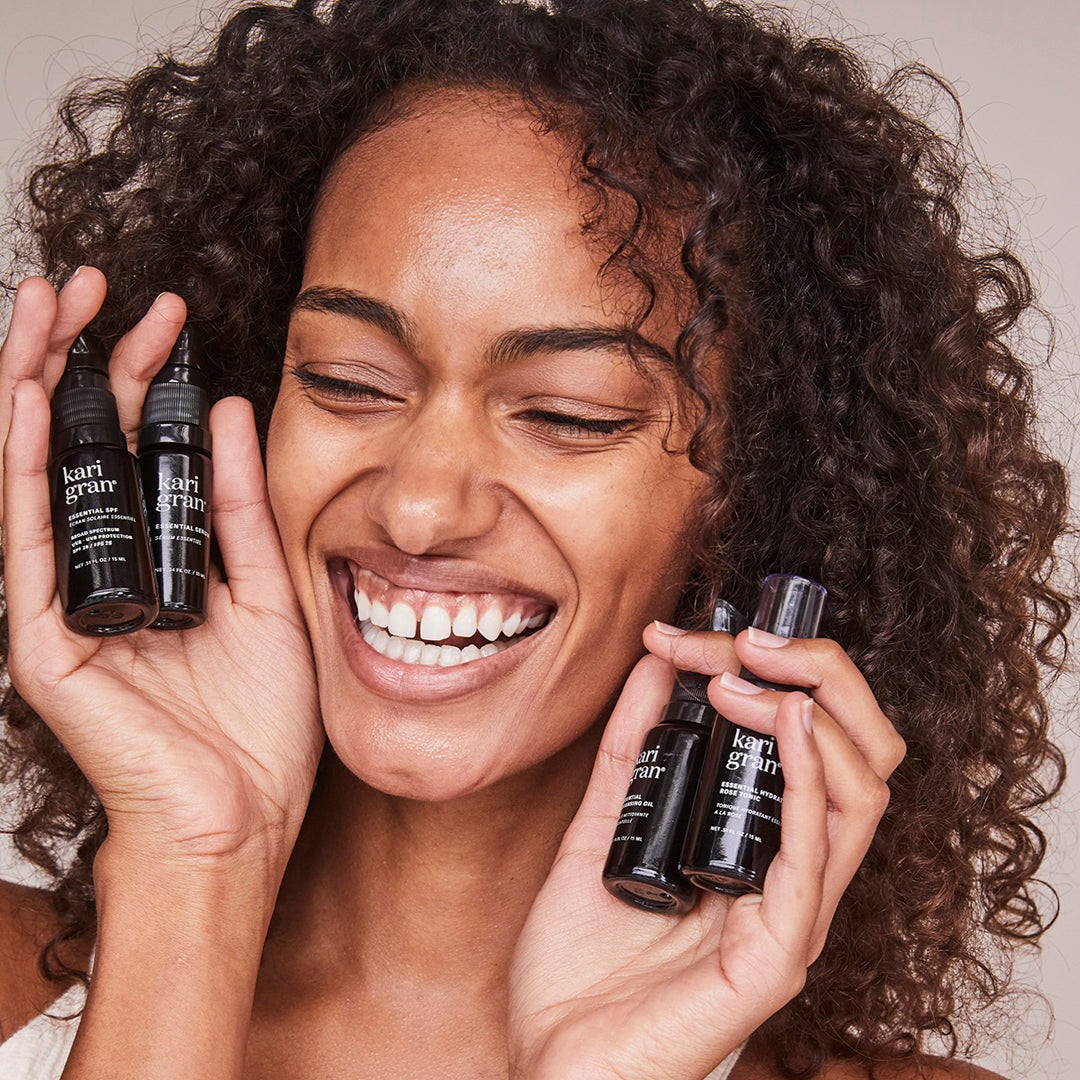 There are so many skin care products on the market today, it's overwhelming. Do you really need to add another "specially-formulated" product to your skin care routine? The short answer is – No. Simplicity is the key, fewer products that are better made and for you.  Our edited essentials (we believe) are the only essential skin care products you need.
 #1 Cleansing Oil – The market is flooded with cleansers that are too harsh. In search of that "clean" feeling, consumers end up with products that leave their skin feeling tight (which is bad) or even slightly parched after cleansing; an indication that the cleanser is failing to hydrate. Instead,  a gentle, oil-based cleanser can lift away pore-clogging makeup, dirt, and impurities. Contrary to popular belief, using an oil-based cleanser does not make the skin too oily. In fact, cleansing oils help balance the skin's natural oil production for nourished, hydrated skin.
 #2- Hydrating Tonic- You wouldn't fast forward through the middle of a movie, so why would you skip steps in your skin care routine? In our system, a hydrating tonic is a vital step toward healthy skin. Used day and night, it is meant to be combined with our serum to customize your desired level of moisture. Hydrating tonics can also be used throughout the day whenever you need a refreshing boost.
 #3 Serum – Replace your traditional moisturizer with a serum. Serums are much more effective for all skin types than the average moisturizer as they penetrate deeper into the skin and hydrate longer. Look for serums made with clean ingredients full of Vitamin E, essential fatty acids, and antioxidants to renew and strengthen skin morning and night.  
 #4 SPF- Sunscreen is an absolute must for overall skin health, but many SPF products are made with harsh chemicals that can be absorbed into your skin. Instead, use natural mineral sunscreens. Look for an SPF made with Non-Nano zinc oxide, as this active UV filter shields the face from UVA and UVB rays.
Essential Beauty Products by Kari Gran
At Kari Gran, we believe that true beauty starts with that we put in our bodies and what we put on our skin. That's why we offer all four of these necessary skin care products made from simple, natural, and effective ingredients.
 With an ample two-week supply of our cleansing oil, hydrating tonic, essential serum, and Essential SPF 28, our Kari Gran Mini Kit is the perfect introduction to our brand as well as a simple way to try out these daily skin care essentials. We also offer essential beauty products like our mineral makeup, which is free of synthetics and formulated without parabens. To make it easy for you to replace your many products with only the most effective and essential skin products. You and your skin deserve it.
Keep an eye out for more daily skin care tips and guides from Kari Gran.
Leave a comment
Comments will be approved before showing up.