Product Spotlight: Kari Gran Hydrating Tonic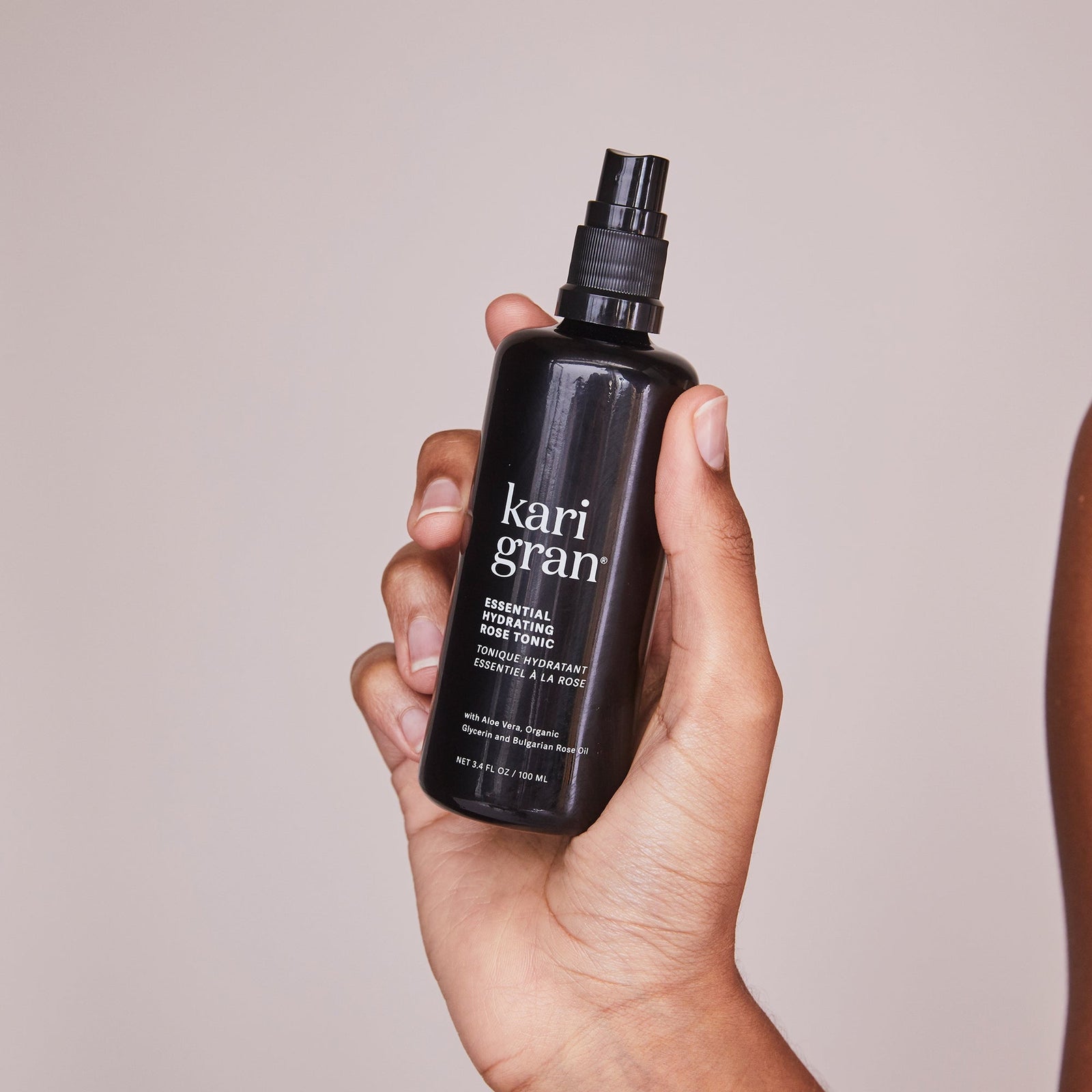 Most beauty fanatics are familiar with a toner, but what exactly is a Hydrating Tonic?
Our Kari Gran Hydrating Tonic – available in both a rose and lavender scent – is a refreshingly simple blend of soothing ingredients that helps keep skin hydrated. It is made from all natural, wild-harvested, non-GMO ingredients including 100% fractionally distilled aloe vera leaf distillate, organic vegetable glycerin and rose absolute oil or organic lavender oil (pending the scent profile).
Most importantly, unlike traditional toners, the tonic contains no alcohol, which only serves to strip and dry out skin. Instead, our beautiful ingredients work together to provide moisture and give your face a natural glow.
And, as you know, versatile products are a big deal around here, and our Hydrating Tonic is no exception:
Moisturizer: For a regular routine, we recommend combining three pumps of our Hydrating Tonic and one pump Essential Serum for a daytime moisturizer. Or, mist three to four pumps on your face before applying a serum, as damp skin improves the absorption in your skin.
Refresher: Spritz on Hydrating Tonic any time for a pick-me-up if your skin is feeling parched (we're feeling this more than ever now that the colder months have started to hit). We know many of our customers who keep the small-sized Hydrating Tonic bottles (available as part of the Starter Kit) on their desk or in their car to easily refresh throughout the day. It also works miracles against stale plane-air, as the small bottles are TSA-approved!
Makeup Setter: The Hydrating Tonic also works as a perfect way to help set your mineral (or any) makeup. Once makeup is applied, simply give your face a few quick spritzes for some serious staying power.
Aromatherapy: While this isn't the "main event" of the product, the lavender scented Hydrating Tonic offers a nice bit of calm that can help you drift off to sleep.
For more information, shop the Hydrating tonic product here.
-Kari
Leave a comment
Comments will be approved before showing up.