Beauty Is An Inside Job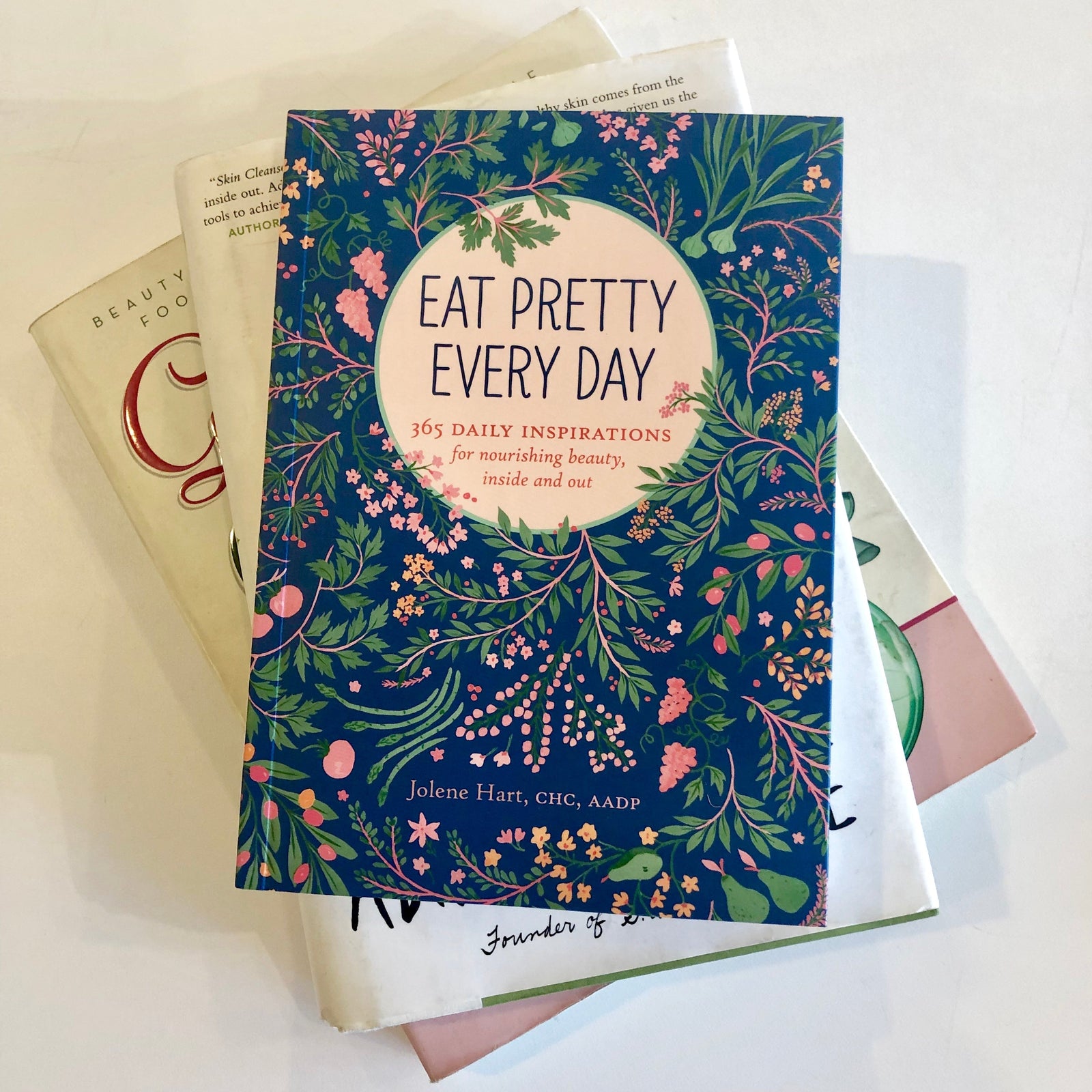 "I love walking into a bookstore. It's like all my friends are sitting on shelves, waving their pages at me."  - Tahereh Mafi
Did you know that Independent Bookseller's Day was Saturday, April 27th? It's a fun day to visit your favorite local bookstore, soak up the literary possibilities, and buy a good book. But really, any day is a great day to visit a bookstore, especially a local one.
In honor of this day, it made me think of one of my favorite books. If someone asks me for a recommendation on a wellness/beauty book, I love to tell them about "Eat Pretty, Nutrition for Beauty, Inside and Out" by Jolene Hart, CHC, AADP. I first read it in 2014 and it remains one of my favorites, probably because its philosophy so closely mirrors my own.
Jolene's been a beauty editor and journalist, has done her own research exploration, and works as a health coach, so she knows her stuff. 
I love her big picture message of whole body health. Her core premise:  beauty is an inside job.  Jolene writes "In Eat Pretty, we favor the whole:  the whole plant, the whole food, and the whole you." 
When someone has an issue with their skin, it's often an indication of something going on internally, an expression of inflammation in many instances. I fully agree with her belief that it matters what you put in (and on) your body. 
Jolene takes a very common-sense approach to healthy eating and highlights the benefits of real food and its impact on skin health. Her book's divided into chapters spotlighting the best foods of the season and their benefits, along with some easy & tasty recipes.  
Her book isn't a one-size-fits-all-diet regimen. She gives succinct reasons why "Beauty Betrayers" (e.g. caffeine, alcohol, sugar etc.) do nothing to help our natural beauty. 
One thing I know for sure after many years of my own exploration:  Diet is a big deal when it comes to your overall health. "Eat Pretty" is a book that will encourage you on your way to better health, starting with your very next bite.  As Jolene puts it, "Radiant beauty is your best accessory."  Couldn't have said it better myself!
Also Recommended:
"Eat Pretty Every Day: 365 Daily Inspirations for Nourishing Beauty, Inside and Out" by Jolene Hart. 
"Eat Pretty, Live Well:  A Guided Journal" by Jolene Hart. 
Eat Pretty Blog:  https://www.jolenehart.com/eatpretty