Thanksgiving Traditions: Kari Vs Lisa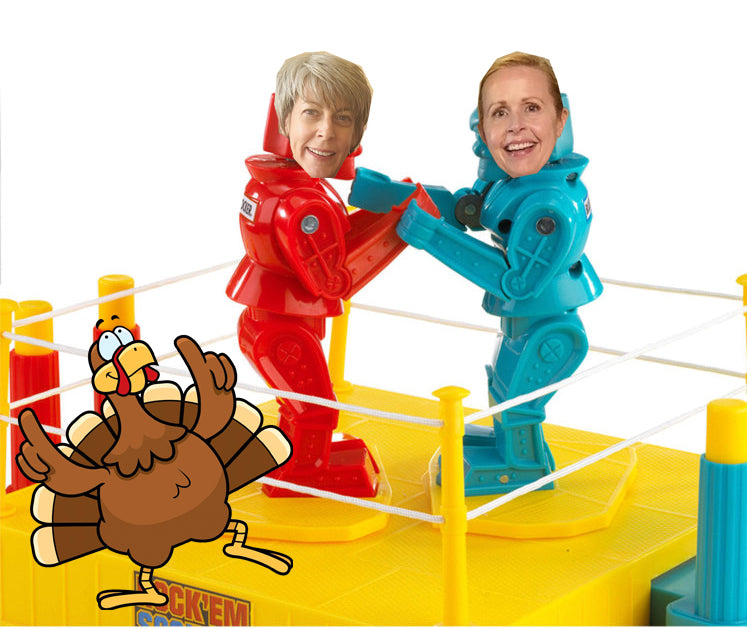 Like snowflakes, no two Thanksgiving celebrations are precisely alike. Probably each of us has a special place in our heart for some beloved Thanksgiving tradition—like eating giant olives from your fingertips, setting the table with the "good china," or eating Aunt Maisie's ambrosia salad ("salad" is stretching it).
Over the years, Kari and Lisa have come up with their own twists on the holiday. Here's how they do it:
Lisa
Thanksgiving has always been a favorite in my family, but not because of any hard and fast traditions. Actually, it's quite the opposite! From the time I was little, my family was a huge hodgepodge of people—some related, some not. Neighbors, friends, and employees of my family's small business would often all show up at our table. There was always enough dry turkey to go around, epic pool tournaments in the basement, and football on TV until late in the day.
As time marched on, my brother became a moral vegan, so we ditched the turkey and started a new tradition by serving a massive feast of Indian curries. Today, the hodgepodge of people still gathers, with new faces showing up yearly, and a football game usually is playing somewhere. Yet we all feel a lot lighter because we've become a go-with-the-flow-family not hanging on so tight to tradition. We simply love the ones we're with!
Kari
One of the most fun traditions I've made as an adult is Friendsgiving. It's our way to extend the holiday (either before or after) so we can spend it with those we don't have the opportunity to see on Thanksgiving Day. One of the best ones was when we destroyed the turkey by overcooking it and had to run to the local market and get takeout for 9! That turkey was truly inedible.
For the past 15 or so years, I've embraced my Norwegian heritage by making lefse and giving it to all my fellow Scandinavian friends. It's truly a labor of love as it's so time-consuming to make, and if you don't love it (I'm talking to you, Ryan!), then don't touch it! I admit it's an acquired taste, but when you grow up eating it during the holidays, it really does bring you back to what is special about the season.
What exactly, you may be asking, is lefse? Lefse is a traditional soft Norwegian flatbread. It's made with potatoes, flour, butter, and milk or cream. The one I make is more like a thin flour tortilla, and I am quite particular about only adding a thin layer of butter, and sugar when serving. Turns out there are many regional variations of lefse in Norway. A good friend insists upon adding cinnamon and sugar, while I'm firmly in the sugar and butter only camp. This may be the year I attempt a gluten-free version…. we'll see if I'm up for the challenge.
The common ingredient in both of these festive celebrations is, of course, gratitude. May your Thanksgiving be filled with good food, people you love, and joy. What's your favorite Thanksgiving tradition?
2 Responses
Leave a comment