Memorial Day Potluck Recipe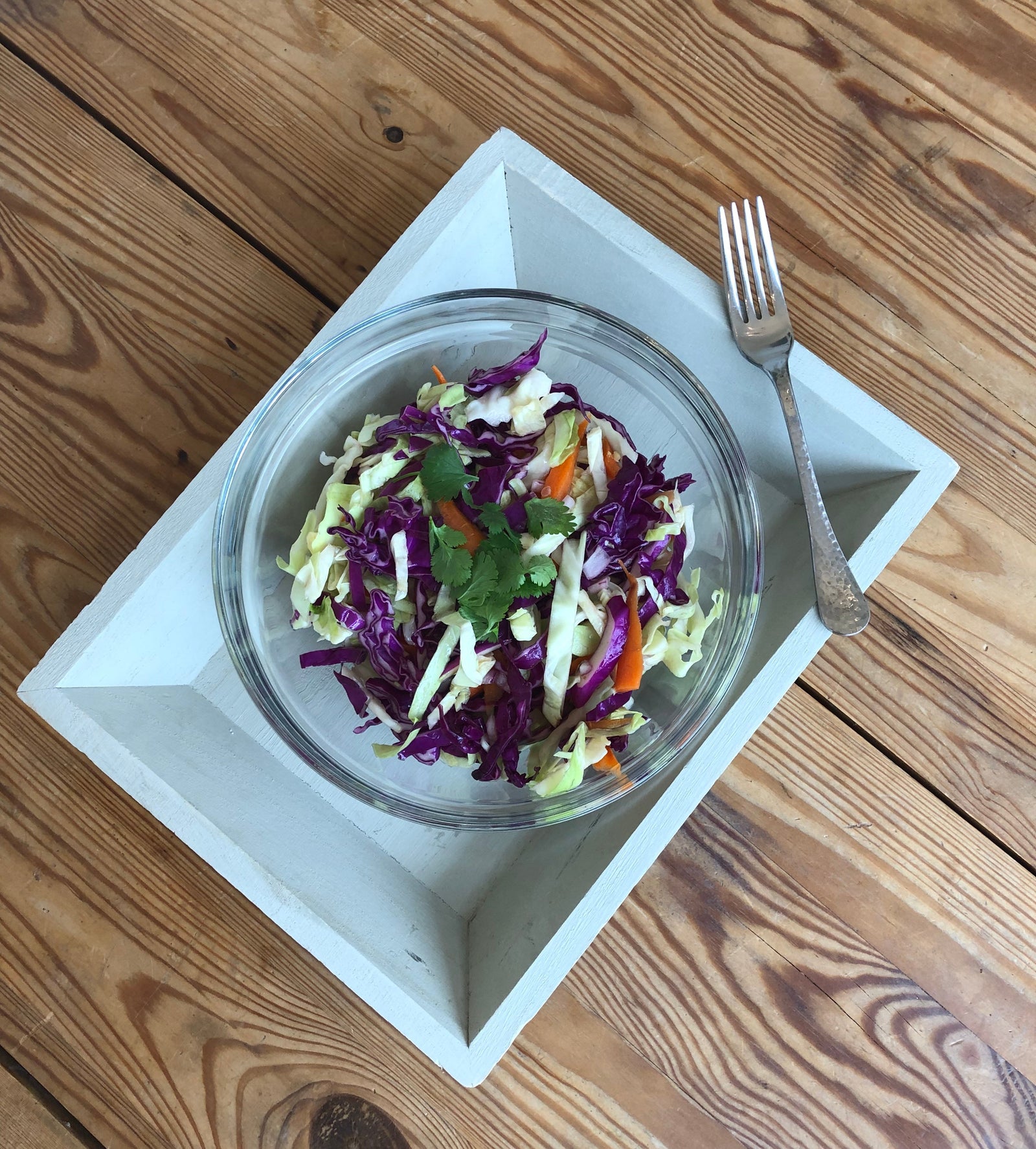 Have you noticed a shimmery feeling in the air lately? Days are getting longer and warmer, and the prospect of dining outdoors beckons. Summer's almost here! 
Memorial Day weekend has become the unofficial kickoff of the season, and it's the perfect time to fire up the grill, host a potluck or plan a picnic. So, you'll want to have a few go-to, crowd-pleasing recipes for shareable dishes that are quick to prepare.
If the word potluck makes you shudder (Another vegetable platter? Haven't I seen that pasta salad before), don't fret. You can easily change it up.
I often turn to our resident "Skin Chef", Jeannie Oliver, for inspiration.
I love her approach to eating clean, nutritious foods that are good for you and actually taste really good.  (In fact, she's such a favorite of ours that I created her very own Lip Whip color, cleverly called "Jeannie.")
Here's one of her recipes that's sure to freshen up your next get-together:  Asian Cabbage Slaw
It's zippy, crunchy and colorful.  (Plus, no ticking time bomb mayonnaise worries.)
Asian Cabbage Slaw
Ingredients:
3 Tbsp. rice vinegar
2 Tbsp. fresh lime juice
2 Tbsp. toasted sesame oil
1 ½ tsp. fresh ginger/ginger juice (I use minced ginger in a jar by The Ginger People)
2 Tbsp. Braggs Liquid Aminos or coconut aminos
¼ head Napa or Savoy cabbage, chopped or sliced into strips
¼ head red cabbage, chopped or sliced into strips
1 carrot, shredded
¼ small red onion, thinly sliced
1 ½ green onion, thinly sliced
2 Tbsp. fresh Cilantro, roughly chopped
Himalayan or sea salt to taste
Directions:
Mix first 5 ingredients in a small bowl.
Toss with remaining ingredients and let marinate in the fridge for at least 15 minutes.
The recipe can be doubled and stored in the fridge for up to a week.
Recipe created by our resident "Skin Chef" Jeannie Oliver. Find more recipes and wellness tips at joliverwellness.com
Welcome, Summer Party Season!
Leave a comment