HOW WE BROUGHT THE KARI GRAN BUSINESS TO LIFE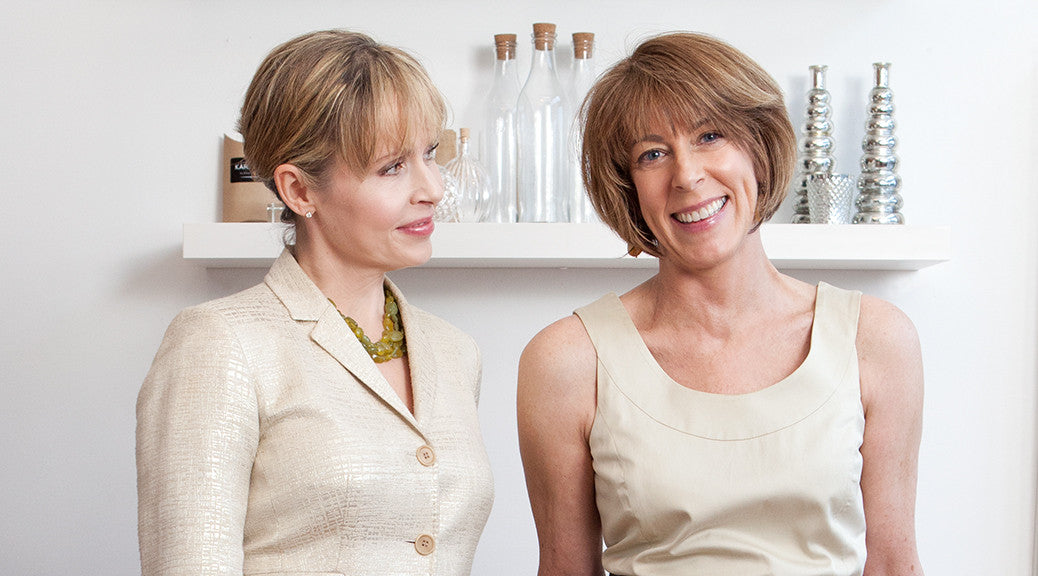 We (Kari and Lisa) are often asked how our business came to be. Take one part real estate, two parts health scare, a heaping dose friendship, combine with a beauty landscape seriously lacking in attractive all natural products, and there you have the recipe base for our beginning!
Before joining forces as business partners in the beauty industry, we developed a bond as close friends and pseudo-sisters during our nearly 20-year ride as Seattle real estate mavens. It was fast. It was furious. It was rewarding. Business boomed…and then the economy tanked. By the end of the rough patch, and as we both approached "new life stages," we were left questioning our careers and aspirations.
Late in 2010, after Kari had taken a year off work, we met up for brunch to reminisce (commiserate) over the past few years and plan for the one ahead. 'Twas the holiday season, so we exchanged small gifts. Lisa gave Kari a beautiful necklace she had been coveting, and Kari gave Lisa a little gift that would lead to something really, really big…
The gift? It was the Kari Gran Skin Care System as we know and love it today. Lisa knew Kari had always been a beauty junkie, and that she'd been crafting DIY-lip balms as a hobby for decades (Lisa kept many in her purse). But she didn't realize Kari had been secretly whipping up batches of some pretty amazing stuff well beyond lips.
Kari's motivation for crafting her personal skin care products was born out of her natural love for beauty products, which took a new path when she developed and battled an autoimmune thyroid disorder. Her battle inspired her to take a second look at what she was putting on her skin. What she found was shocking. Most every beauty product on the market was full of parabens and toxins, things that have been linked to very serious diseases and hormone disruption, which played into her own disorder.
However, when Kari tried to find all natural beauty products on the market, she was turned off by the overly "crunchy" vibe most of them put out. They were clean and green, but they sure weren't sexy or luxurious – too much patchouli, and not enough pamper! So, during her year off from work, Kari secretly dove head first into the natural beauty world, experimenting with skin care formulations based on her self-studies and tinkering to her heart's content.
Which brings us back to the holiday brunch and the gift in Lisa's hand. Lisa was very impressed with Kari's new self-created skin care system, so much so that she approached Kari one week later with an idea: let's turn this into a business.
The brainstorming begun and our first official business meeting was held on New Year's Day 2011, over brunch, of course. In the months that followed, Kari kept perfecting her formulations and pursued several formal education tracks, including coursework at Bastyr (a leading natural health institution), studying under a natural cosmetic formulator, and poring over all the required readings for licensed aestheticians. For her part, Lisa left behind the real estate world and threw her energy into the business side of things to get the new brand up and running.
Four years and many Lip Whips and Skin Care Systems later, we are going strong! We've never looked backed, and are grateful for our "second act" career that's as challenging as it is rewarding, and a whole lot of fun when you're doing it with a friend beside you!
Leave a comment