Sweet Treat Or Superfood?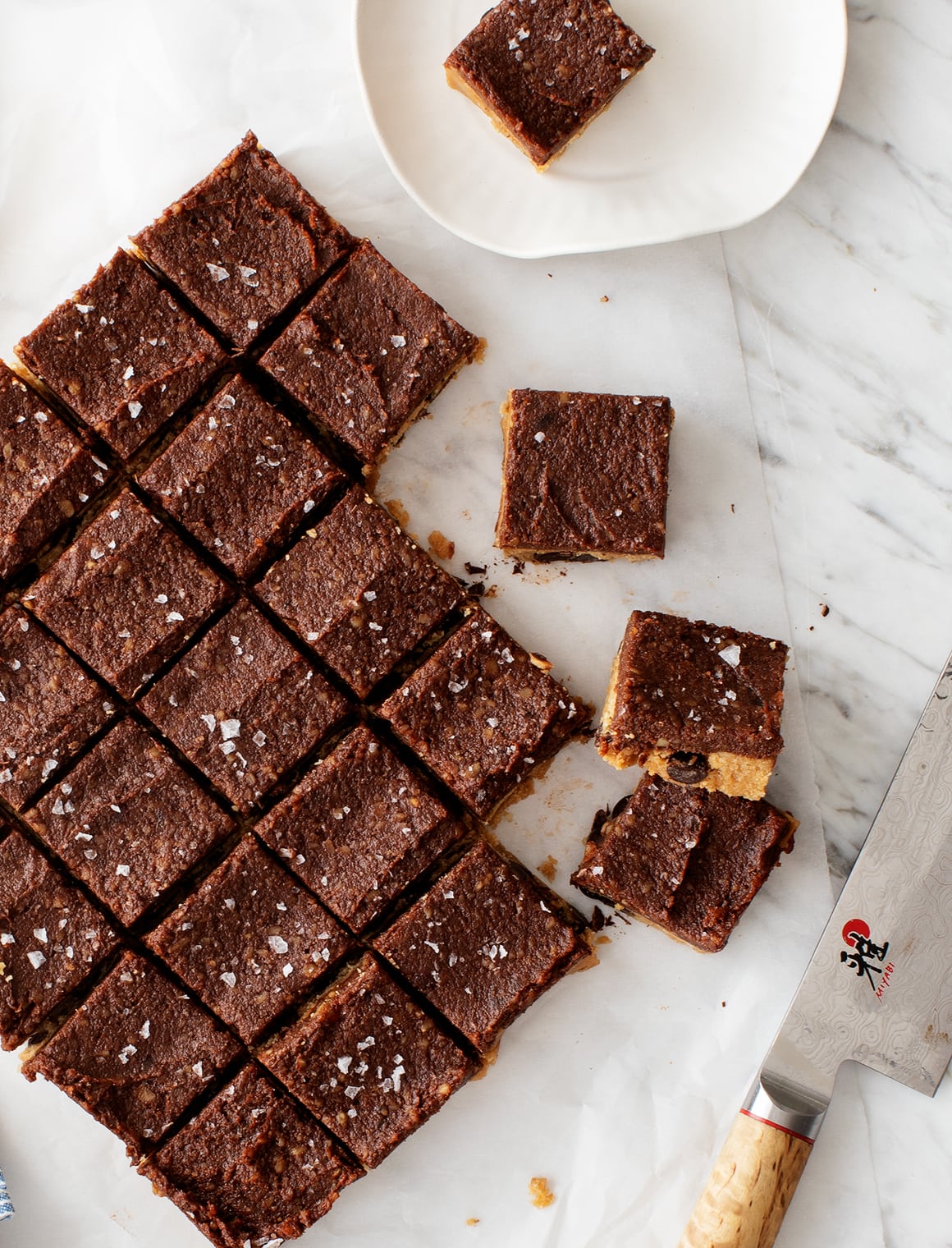 Do your taste buds get all tingly by the prospect of a vegan, nearly sugar-free superfood kind of treat? No? It can be tricky to find a cookie that truly tastes delicious and but doesn't trigger any guilt.
We've all heard it loud and clear:  sugar is the devil's BFF and we should avoid it like toxic waste.
As someone who loves her treats, especially chocolate, this poses a problem.
Along comes Raw Peanut Butter Cookie Dough Superfood Bars.  They're a revelation! 
I was turned on to this recipe at an anti-aging workshop given by my friend and naturopathic doctor, Emily Passic, who got it from a vegan blog she recommends called Love and Lemons.
Sumptuous and rich, these cookies are full of good-for-you organic ingredients, like peanut butter, coconut oil, almond flour, cacao powder, walnuts, with Medjool dates and a bit of maple syrup for sweetness. They hit my happy spot in a big way.  And they're so satisfying that one really is enough (but no judgment if you eat more).
The smooth rich peanut butter base and cacao layer are set off with just a touch of flaky sea salt to make this most delicious bite. 
What elevates them to superfood status are the Cacao and Maca powders.  Cacao is the purest form of chocolate, and it's packed with antioxidants, fiber, and magnesium (great news, right?)). 
Maca is powder from the Peruvian maca root and has a malty, vanilla-y, butterscotch-y flavor that brings an extra dose of deliciousness to the dough layer.   Maca is believed to naturally support the body's ability to adapt to stress and help improve energy, vitality, and stamina. 
If you're feeling a bit more indulgent, you can add chocolate chips (the devil be damned).  Or if you prefer less sweet, you can leave out the maple syrup.  (I didn't miss it, neither did my taste test group).
I've made them with almond butter & chopped almonds because I like the taste and all those almonds are like a triple whammy of protein.  Winning!
Also, for those who, like me, have inflammation issues, did you know peanuts are not really a nut?  They're legumes, which have been identified as an inflammatory cautionary food.  
Extra bonus:  these cookies are super easy to whip up - no baking required.  
Perfect timing for a holiday hostess gift or treats for friends and family.  You can tout all the health benefits or skip all that and just say you made the treats especially for them with love.
You can find the full recipe at Love and Lemons here. Note from original blog: If you make this, let us see! Tag your photo with #loveandlemons on Instagram.
Leave a comment