What Does Menopausal Skin Look Like?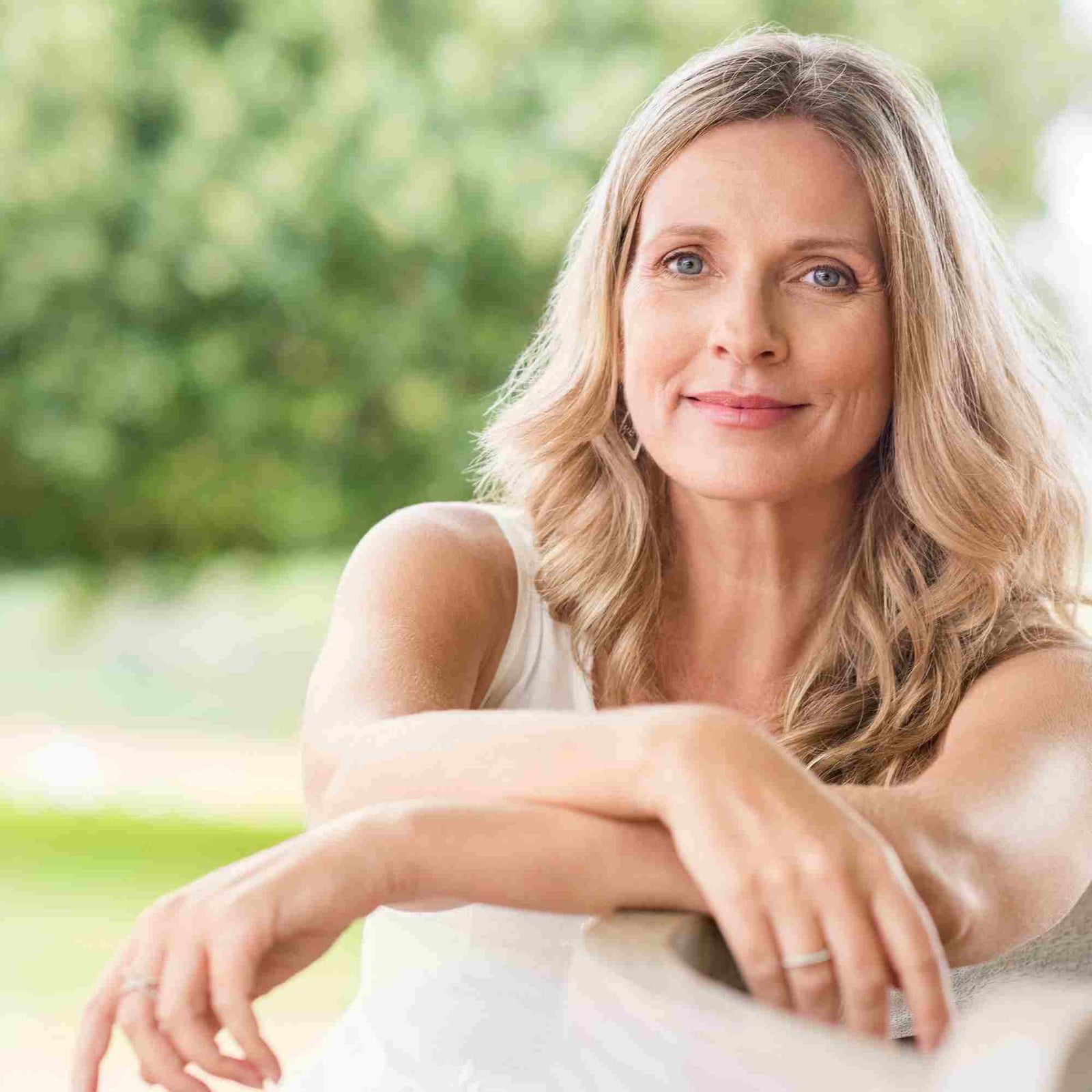 At Kari Gran we believe aging is simply another word for living. From childhood, to adulthood, and beyond, life brings changes to our bodies, our skin, and our perspective.  By the time a woman reaches her late 30's or early 40's, chances are her skin begins to present differently. 
Perhaps it's the appearance of fine lines and wrinkles.  Or more dryness or dullness, uneven skin tone, dark spots, perhaps sagging. Where's that rosy glow gone?  Just what is going on here? Most of these new developments are linked with menopause which triggers a slowdown in production of collagen and elastin, two proteins that keep skin supple, firm, smooth, and rosy.   Estrogen and collagen levels decrease significantly as women age.  Estrogen begins to lessen during perimenopause, the 4–10-year period before menstruation ceases, and in post-menopause, it can decrease by as much as 30%.  
Menopause, and its attendant effects on the skin, can be quite the reality check.  Take heart,these changes don't happen overnight or all at once.  It helps to be pro-active as early as you notice changes; it's important to keep building collagen while you can.  We say, start with the basics:  Hydration + Moisturization + Protection (HMP).
Menopausal Skin Change:  Fine lines, wrinkles, and uneven tone
The skin barrier, (outer-most layer of our dermis) is the skin's first line of defense. A strong, healthy skin barrier protects against environmental stressors (weather, bacteria, pollution) as well as damaging UV rays while keeping water and nourishing substances in. 
Decreasing levels of collagen, elastin, and hyaluronic acid, along with fewer new skin cells to replenish the skin barrier, leaves the skin vulnerable to photoaging.
What To Do:  Minimizing fine lines and uneven tone
Caring for menopausal skin begins with a regular skincare regimen: a gentle cleanser, an antioxidant serum and/or a rich moisturizer and sunscreen.
Hydrating topical ingredients that work best include aloe and glycerin, which act as moisture magnets, drawing moisture from the air to the skin. Moisturization includes oils which act as emollients for the skin barrier, which in its healthiest state, keeps moisture trapped in the skin rather than evaporating. Oils like camellia and avocado are particularly beneficial and nourishing. The beauty of facial oil is that it's very easy to customize depending on what your skin needs. 
Then also finish your routine with a broad-spectrum, mineral sunscreen with SPF 30 or higher which is vital to protect against UV rays and reduce hyperpigmentation and fine lines.
Menopausal Skin Change: Dryness
Dryness is often the first clue that your skin barrier is struggling. Our skin's capacity to retain water diminishes due to decreased hyaluronic acid production (which acts as a magnet for moisture), a weaker barrier to lock moisture in, and less active oil glands. Hydration is key to plump, smooth skin, so now's the time to make sure you're doing everything you can to keep your thirsty skin quenched with moisture.
What To Do:  Bring on the Hydration, Bring On The Moisture
Repeat of the routine for treating fine lines and wrinkles. Switch to a gentle cleanser that won't strip dry skin of its essential oils. Follow up by reinforcing the skin's barrier with a moisturizer and/or serum.  Extra Credit:  Dermatologists suggest using a humidifier while you sleep to keep menopausal skin moist, prevent water loss and improve skin barrier function.
Menopausal Skin Change: Dullness 
Menopause-induced dryness coupled with lagging cell turnover due to age makes skin look, well, dull.  Skin cell turnover slows, from about every 28 days to 35-50, so dry cells are hanging on, dulling the skin's appearance. Dull skin doesn't reflect light and light reflection is what gives skin its glow.
What to Do: Exfoliate
Exfoliating dead, dry skin help to keep skin looking radiant.  It's important to be gentle with your skin at all times, so go easy with this.
Menopausal Skin Change:  Sagging
Losing collagen and elastin means losing the proteins that provide structure to keep skin firm, taut, and bouncy.  Low estrogen and elastin can lead to papery, looser skin that sags.
What To Do:  Sunscreen and Antioxidants
Sunscreen and antioxidants especially (vitamins C and E) are essential to help prevent sagging. Estrogen protects against photoaging, so preventing sun damage is especially important as estrogen decreases.
How Kari Gran Can Help
Menopause is just one of "the facts of life" that women experience.  The journey is different for each individual.  It can be a trying time, with a little some chaos but when it comes to your skin, it's nothing you can't handle.  Try the Kari Gran Skin Care System with SPF to get just what you need for HMP before, during and after menopause. Keep calm and carry on!
"Oh my gosh, I love this skincare system!! I'm 56 years young and my skin has never looked or felt better! Before using Kari Gran, my skin was so dry it was flaking off my face; now it is so smooth, so soft, and so moisturized!" - Corinne, Verified Purchaser. 
Leave a comment
Comments will be approved before showing up.