Menopause and Dry Skin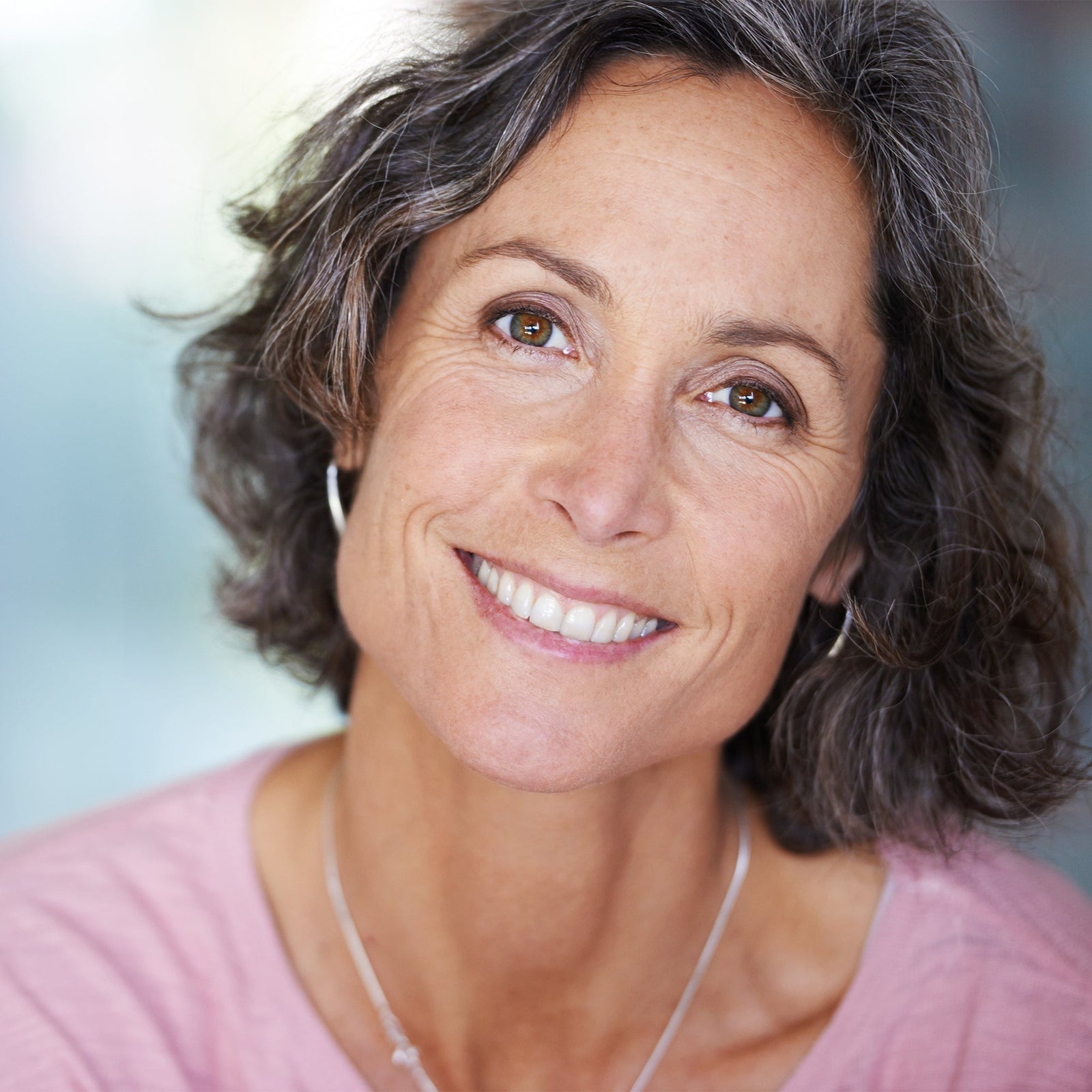 Dry skin is one of the most common complaints of women as they go through menopause. Skin may begin showing changes as early as mid-to-late 30's during perimenopause and will likely carry on into postmenopause. Luckily, there are a few changes we can make with our skincare choices that will make a world of a difference to giving you your glow back. 
Menopause Skin Changes
As we age, our skin naturally starts to produce less sebum (oil) and our estrogen levels also start to diminish. Estrogen is a hormone that promotes the retention of water and plumpness in the skin. Less estrogen leads to drier skin, which is especially problematic if you already had dry skin. For those with oily skin, you might notice that your skin is now combination, or even normal. Postmenopause, skin dryness continues, due to the body's decreased ability to retain moisture. 
Quick vocab refresh: Perimenopause can begin as early as seven to fifteen years before menopause. Most women start to notice changes in their skin, hair and nails starting in their mid-late 30's. Menopause is a one day event- it is a point in time twelve months after your last period. After that, you're postmenopausal.
Prevent Dry Skin During Menopause 
Don't fret, hydration (getting proper hydration into the skin) and moisturization (maintaining a healthy skin barrier with emollients that keep the water in) will be your best friends. Hydrating topical ingredients to look for include aloe and glycerin, which act as moisture magnets, drawing any moisture from the air to the skin. Oils act as emollients for the skin barrier, which keeps moisture trapped in the skin rather than evaporating. Oils like camellia and avocado are particularly beneficial and nourishing because of their essential fatty acid profiles. Jojoba is actually a liquid wax that is very similar in profile to the oils our skin naturally produces. The beauty of a facial oil is that it's very easy to customize and use more or less each day, depending on what your skin needs.
A menopausal skincare routine on its own is just one piece of the puzzle when dealing with dry skin. While we wish there was a magic bullet, the reality is that approaching menopause with a good set of lifestyle tools, that work synergistically can make life just a little easier. Don't underestimate the power of sleep, managing stress, good nutrition, exercise, and drinking plenty of water. 
Simplicity Is Key to Keep Skin Moisturized
Keep it simple. Who doesn't want simplicity? Having fewer skincare products in your arsenal means you have fewer steps to forget. Focus on hydration and moisturization, the two superheroes of healthy skin. Just try not to overdo it, especially when it comes to exfoliation. A little may be good but a lot isn't always better. What you might end up with is a disrupted skin barrier during menopause that results in dry, flaky, dull and break-out prone skin.
How to Ease Into the Dry Years of Menopause
Older skin is thirsty. Kari Gran Skincare can help with its oil-based system which promotes hydration and moisturization. Our ingredients are sourced from the finest, organic, naturally derived, wildharvested and non-GMO ingredients. We recommend our streamlined, simple routine that takes only a few minutes, yet delivers all the protection and pampering your skin craves. We call it "Cleanse, Hydrate, Protect, and Go!"
Begin with KG Essential Cleansing Oil to gently lift away impurities from the skin, including makeup. Our organic oil cleanser balances the skin's natural oil production with a dose of intense hydration.
KG Hydrating Tonic. This tuned-up tonic is a triple threat against skin dryness, dullness, and redness. Super enriched to soothe and strengthen the skin's moisture barrier, its alcohol-free formula rehydrates skin for next-level radiance. It can be used alone or mixed with Kari Gran's Essential Serum to create your custom moisturizer.
KG Essential Serum nourishes with an antioxidant-rich blend of organic ingredients, and a boost of Vitamin E. Contains no water as a filler for highly efficient hydration.
Using a sunscreen for mature skin is a must. We love our original  KG Essential SPF 30. Our mineral sunscreens use non-nano zinc oxide as an active barrier to shield the face from UVA rays which cause signs of aging, and UVB rays responsible for sunburn. Or try KG Essential Tinted SPF 30. This oil-based, sheer-coverage tinted moisturizer helps even skin tone as it protects against sun's damaging rays with mineral face sunscreen.
We don't call it aging, we call it living. We can give our skin everything it needs to maintain a fresh, healthy, radiant appearance. Make sure to stay focused on health and hydration over youth and perfection during menopausal years. According to Katie Cavuto, RD and wellness expert whom we admire, "Health is holistic, and wellness begins with positive messages of self-love, self-respect, and joy."
And that's what Kari Gran Skincare is all about.
Leave a comment
Comments will be approved before showing up.